2011 Group Outing of Tianyuan Company
2011-01-24Working at VisitOurChina
According to our company's tradition, we would organize a group outing before the Chinese New Year (in lunar calendar) comes. And staffs of Guilin Tianyuan Travel Service Co., LTD, which VisitOurChina belongs to, enjoyed a happy 2011 group outing last week.
We chose Nanning, capital of Guangxi Province, as the destination. Besides the biggest highlight of our trip – the New Year party, we also visited the famed Detian Transnational Waterfall, Tongling Great Canyon and Mingshi Countryside.
Located in the Southern subtropical climate zone, Nanning always enjoys pleasant weather at all seasons, and it has been praised as "Green City in China" with high vegetation coverage. Nanning also won the UN Habitat Scroll of Honor Award in 2007. Nanning has rich traveling resources and was honored as China's Top Tourist City in 1988. It is the both the host city of annual China – ASEAN Expo and the core city in the Guangxi North Bay Economic Zone. The tempting city is constituted by South Asia tropic features, unique mountains and rivers, exotic customs, etc. Nanning has various and colorful cultures, customs and many ethnically traditional festivals such as Binyang Firecracker Dragon Festival, Wuming March 3rd Folk Songs Festival, Nanning International Dragon Boat Rice, Hengxian Jasmine Festival and Mashan Culture Traveling Food Festival.

Guangxi Medicinal Plants Botanical Garden
After 5 and a half hours' drive, we arrived in Nanning and visited the Guangxi Medicinal Plants Botanical Garden in the afternoon after lunch. Established in 1959, Guangxi Medicinal Plants Botanical Garden is located in the northeast part of Nanning city, covering an area of 3000mu. Now, there are over 4000 medicinal plants in this garden, most species grow in South China, and some are from more than 20 other countries, including UK, France, Netherlands, USA, Japan, Vietnam, Thailand, Indonesia, etc. This garden is the largest professional medicinal plants garden in Asian Pacific Area, with the most varieties of medicinal plants. Therefore, Guangxi Medicinal Plants Botanical Garden is also known as the "No.1 Medicinal Plants Botanical Garden in Asia". You can also buy some medicines made by medicinal plants near the entrance of the garden. The marvelous effect of Chinese medicine must astonish you!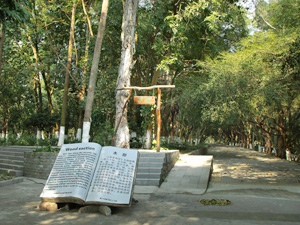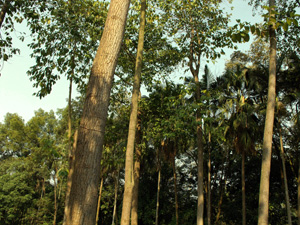 Evening Party of the Company
The evening party at the night of the first day was definitely the biggest highlight of our group outing every time. And every department had been prepared for this party for a long time! We enjoyed a big feast, watched excellent programmes of ourselves, join interesting games and had our luck draw for red pack with money (a custom of China to cherish our New Year)!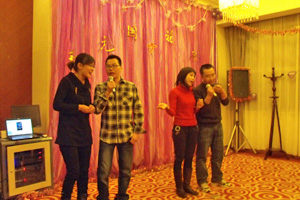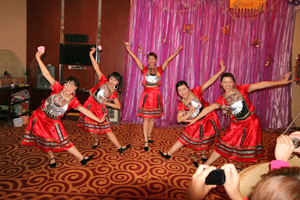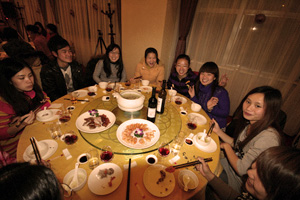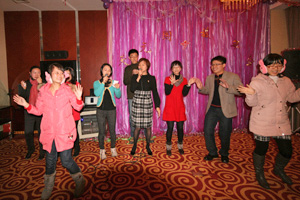 Detian Waterfall Scenic Area and Tongling Great Canyon
We visited these two characteristic attractions the second day. Detian Waterfall is the largest transnational waterfall in the world, located between China and Vietnam, "the most beautiful waterfall in China" listed by Chinese National Geography Magazine. Located in Chongzuo city of Guangxi, on the south rim of the Yunnan-Guizhou Plateau, Detian Waterfall is of classic Karst landform and belongs to Southern subtropical monsoon climate zone. Luxuriantly green plants, impressive waterfalls, No. 53 boundary tablet between Vietnam and China, special Vietnam market... Some local products of Vietnam are recommended, such as rubber slippers, Vietnam coffee and ointments.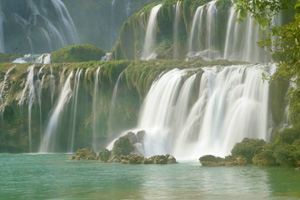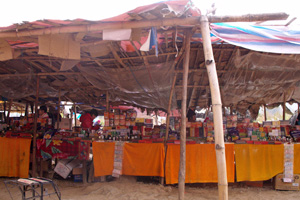 It is about 1 hour's drive from the waterfall to Tongling Great Canyon, which is the greenest eco-tourism canyon in China, natural colorful brocade connecting the sky and ground. The whole canyon is 2800 meters long, jointed by underground caves, underground ricers and tunnels, huge overhanging stalactites, towering old trees, mysterious caves, scattering deep pools are formed. It is said there are 818 steps by total in this area and the most impressive section of this area I believe is a narrow circle route inside the cave for a one person a time, enjoy the fun that waters fall on you!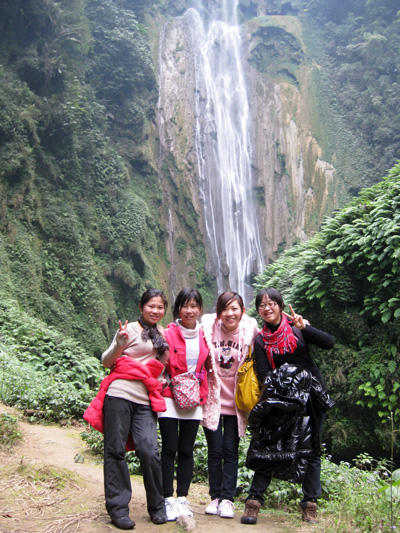 Mingshi Countryside
The final destination of us is the Mingshi Countryside, where we stayed the second day. Beautifl place! 37 kilometers towards Detian Waterfall, Mingshi Countryside is a beautiful village resort with mountains and rivers, an idea hideout for the hermit. Sitting on the bamboo raft and seeing fairyland-like sceneries along the Mingshi River, enjoy beautiful times far from the bustle world. Mingshi Countryside is the paradise for photographers, where you can view both gorgeous sunrise and sunset. It is also a famous place for video filming. The characteristic buildings of Zhuang people in Mingshi Countryside are located between the mountains and rivers, like the wonderland on the heaven. Watch sunrise in the dawn, view sunset in the dark and see stars in the evening...It must be a pleasant thing to stay here, experience carefree and leisure life. And our group picture was finally taken here!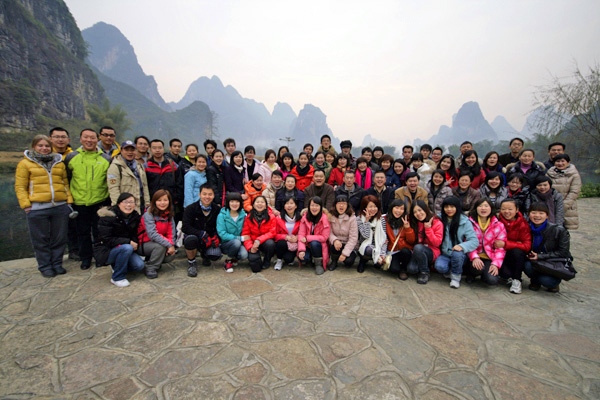 --- By Haphine (VisitOurChina)
Comments
Comment