DREAMLIKE LIJIANG: Surprisingly Fantastic Ballet Circus Show
2011-01-18China travel Guide
In what way can you relate "Lijiang (
Li River
)", "ballet" and "circus" with each other in a show? Well, I have to admit that I thought it's just a way of catching people's eyeballs when I saw the name of "DREAMLIKE LIJIANG: New Ballet Circus" at the entrance of
Guilin
Dreamlike Lijiang Theater last week for the first time, because it's really hard for me to imagine a scene in which a graceful ballet dancer plays with a comical buffoon by the Li River– unless it is a comic stage acting, isn't it?
There were a lot of people waiting for the show in front of the hall of the theater, supposing the show in excitement or in confusion, just like me. After I had run out of all of my imagination and failed to come into a good fancy, we audiences were allowed to get into the theater to find our seats. People inside the theater kept expressing their imagination until it darkened suddenly.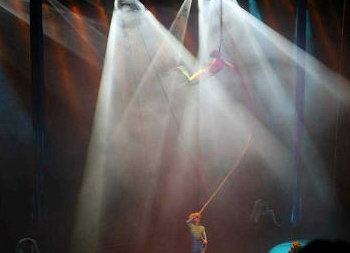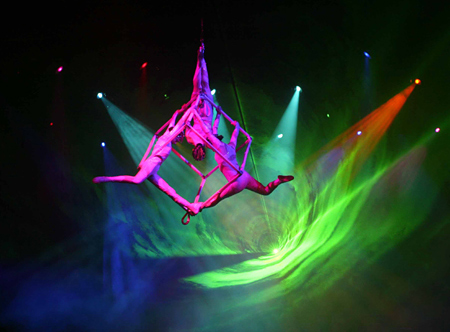 The stage was lit up by rays of colorful light and a butterfly fairy in pink elegantly moved onto the stage accompanied by a small group of female spring messengers in green. I didn't have the playbill, but I could tell that they were dancing ballet not dressing in common ballet skirts, welcoming something joyful. This prelude lasted about 5minutes and the second chapter, an entirely different performance, came up and won audiences' cheer: there were 3 strips of cloth dangling from the overhead of the stage, about 1 meter in width and 5 meters in length, the actors seized the cloth and climbed up with celerity, and what held my breath was their highly breathtaking actions in the air by only one hand! Immediately, the theater was filled with acclamatory clapping. After the circus, there came up something of Zhuang ethnic flavor came, ethnic clothes, ethnic music, ethnic dance... Incredibly, the hazy outline of the picturesque landscapes in Guilin appeared as background on the stage, I'm not sure whether it is 3D video, but I'm sure that it's really amazing and romantic. When I still immerged myself in the melodious folk music, a big Chinese vase captured my eyeballs. A girl danced on the vase dedicatedly and I thought she's showing audiences classic Chinese dance, but soon I found the fact took me by surprise – the vase separated as two parts and there were two other people inside it, on the intersecting surface of which the 3 actors represented excellent acrobatics! This is the 4th chapter, however, my doubt about the show had completely vanish.
The show continued to hold my interest tight. When Chapter 7 and Chapter 8 were on, my fellow colleague who sat by my side stood up excitedly and could not help saying "How wonderful!" again and again! Yes, the lovely 3D fish, bird and scenery of Guilin floating in the air had led us into a fairy world. Until here, a half of the whole show had gone and the music turned from being bright to being classical Chinese, with actresses wearing bamboo hat dancing gracefully. After that, a good deal of excitement and enjoyment came into we audiences' eyes again: "flying couple", acrobatic holding lamps, throwing basketballs, making a human pyramid with hat throwing and catching... there were many to see together with the dreamlike images of the Li River and many well-known landscapes in Guilin displaying above the stage.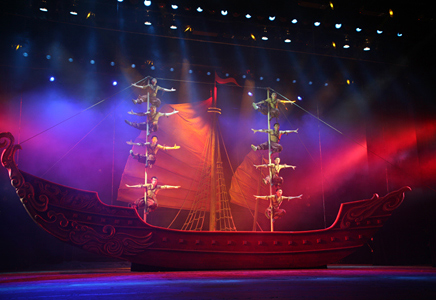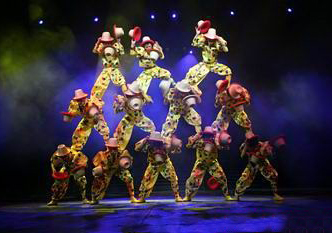 At the end of the whole performance a huge tree appeared on the stage, the teenage actors climbed on it and other actors danced under it, showing their dependence and love to the nature. I guess that this part hints the harmonious relationship between human and the nature. The whole performance lasted for about 70 minutes and the beautiful "butterfly" appeared from time to time throughout the show, connecting the acrobatics, ballet,
Chinese music
, dance and
Kungfu
tactfully.
When the last chapter finished and all of the actresses and actors dressed in stage costumes of ballet, circus, acrobatic, ethnic minorities, I realized that "DREAMLIKE LIJIANG" indeed magically turned an impossible idea on my mind into a perfectly dreamlike top show. If you have ever watched this wonderful show, I suppose you must still have an impressive memory about it; if you have never enjoyed it, I suggest that you have a try on this excellent show in Asia which is a combination of ballet, circus, acrobatics, Chinese classical dance and Guilin scenery, it's worthy of spending your time.
--- By Cindy (VisitOurChina)
Comments
Comment