VOC's Travel BLOG
Our Travel Blog is the place to share our real life, travel experiences in China with you. Besides, we will provide information related to Chinese culture and China travel guide. "A bosom friend afar brings a distant land near." Traveling makes us to be closer, let's discover China together!
Eating out in Guilin
2009-04-08 | China Food | Comments(0) Views(1216)
Even if I like Chinese food, I have to admit that sometimes I am tried of eating rice all the time (well, not all the time, but pretty often ;-) ). Thanks to my colleagues and my friends in Guilin I get to know more and more places where one gets western food. Of course, you can't compare it to what you are used to, but after some time it will be an apreciated change to get italian noodels or a pizza.
Also you will usually meet other foreign people in thoses places - people who are living in Guilin and who have a lot of insider knowledge, oder travelers. The best-known western resaurant is supposed to be "Rosemarys", which is in the center of the city (in the side street at KFC). There you get very good Pizza, Salads, Noodels, Steaks, Schnitzels, Risottos but also freshly made bread (made of wheat and not sweet, as all the chinese bread you can get) for little money. The waitresses speak English and also the menue cards have a translation. I warmly advise you to spend an evening there, have a beer and enjoy the time in Guilin!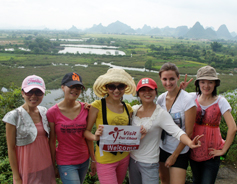 Calendar
Categories