Traveling Southwest of Hunan province in Flower misty March
2009-04-08China travel Guide
In late March, I was so lucky to have chance to explore southwest of Hunan province, my colleagues and me, we drove car by ourselves, on the long way, we driving or stopping, absolutely enjoying the wild trip which we want to discover. It was like a dream to come true, or adventure, anyway, it was my first time to experience such kind of trip, I was like a young child to find everything with full of curiosity, I tried my best to feel and touch all with my eyes, nose and heart…then I found life is just experience or a long trip, you never know next stop or scenic spot, without any hesitation, just go ahead and let it be. I think I learned a lot from the trip, not only enjoying the trip very much, but I understand traveling deeply.
In our life, we might meet lots of different people from different places, maybe we just meet one time, then no chance to meet again, however, maybe we could meet each other casually. So, I tried to remember everyone who I met on the trip, it is a part of my life and trip. For scenery, as we traveled in the beautiful flower misty March, everywhere is involved in spring season, green tender leaves or weeds, blossoming colorful flowers, fresh air, active animals, etc.
I can just say, in right time I had an excellent trip. I want to share every detail and impression with you if you are also interested in traveling with expectation and curiosity.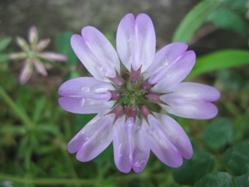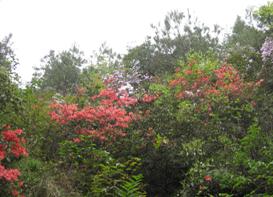 Day 1 27th March, 2009
Guilin-Longsheng-Tongdao-Jingzhou-Huaihua
In early morning, we started the tour at 6:00AM. In my common life, I always get up at about 7:30AM, so, I even do not know how the city going in such early morning. When I went through the city, it was still dark, most people were sleeping comfortably. Everywhere is peaceful and quiet, it seems you hold the whole city, it is so different feeling with the common time you are in the city. This morning I could be so proud to say "Good Morning" to the city.
Today our destination is Huaihua, Huaihua is a prefecture-level city in the Hunan province of China. Huaihua is in a mountainous region of Hunan. The mountain peaks are rather high. Huaihua is located south of Zhangjiajie National Forest Park, and shares the same mountain belt. Zhangjiajie is known for its different peaks and valleys.
The area's rural poverty is a continuing problem. Developing the mountain resources has been a question for some time.
Railroads provide the main transportation in the region, although an accessible highway and airport have been built recently. The only other airport in Zhijiang was rebuilt from a military airport. Zhijiang is also the place where the Japanese surrendered to China on August 21, 1945. Also, at Zhijiang airport, the local government built a museum to commemorate the contribution of American American Volunteer Group-Flying Tigers. (The American Volunteer Groups, popularly known as the Flying Tigers, were volunteer air units organized by the government of the USA in order to aid the Nationalist government of China against Japan in the Second Sino-Japanese War.)
As the region's development continues, the western countryside will have greater chance to grow. With Huaihua's important location, it will likely offer great opportunities in travel, agriculture, services, and industry, which in turn can help guide the whole westward region's development.
We drove car from Guilin to Longsheng first, as it is the best way to Hunan province. Actually, Hunan province and Guangxi Zhuang Autonomous Region are neighborhood, then we can drive to Hunan area directly. After driving about 4 hours and 168KM, we arrived at Tongdao Dong Autonomous County which belongs to Hunan province. I took a break in Tongdao and continued to go ahead. At noon time, we arrived in Jingzhou Miao and Dong Autonomous County and we had a very simple and basic lunch there, to be honest, the food was not very nice, but no more options to select.
From Jingzhou Miao and Dong Autonomous County to Huaihua city, on the way, we visited a famous ancient town-Hongjiang ancient commercial town, it is very worthy and must on the trip, a place no wandering photographer should pass by. If ancient Fenghuang Town is like a delicate and pretty young girl, ancient Hongjiang Town is like an elegant and beautiful young lady. For the most part seeming to live a tranquil and comfortable life, the local residents are honest and remarkably hospitable. In the courtyards, carefree children play the same games I played as a child, and seniors nap in the warm sunshine. It is so peaceful that visitors may fret about disturbing the scene with their foreign presence.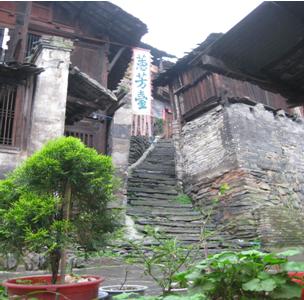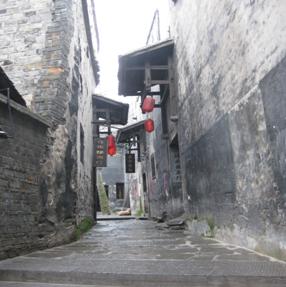 Hongjiang ancient commercial town is really a big highlight of my trip at first day.
From Hongjiang city to Huaihua, it is 80KM distance. At late afternoon, we finally arrived in Huaihua city. We stayed in the local best hotel-Huatian Hotel.
Day 2 28th March, 2009 Huaihua-Dongkou-Suining-Wugang-Xinning-Langshan
At 7:50AM, we departed from Huaihua to our first stop-Suining county which belong to Shaoyang city. Shaoyang has a history of 2500 years and remains an important commercial and transportation city in Hunan. It has one metropolitan area and 8 suburban counties, with a population of 7 million.
Shaoyang is one the major forest reserve areas in Hunan province. It had a forest coverage 42.7% which is the highest in Hunan province. The Nan Shan Pastures, with 23 millian acres, is one of the biggest in Southern China which provide dairy products and meat for Hunan province.
Shaoyang is the setting of Justin Hill's novel The Drink and Dream Teahouse, which was banned in China in 2001.
Maybe you would ask why we want to visit Suining country, actually, we wish to experience the film shoot place of Postmen in the Mountains. A personal film, Postmen in the Mountains tells the story of an old man who for years served as the postmen for rural mountain communities. On the eve of his retirement, he again sets off to deliver the mail, but this time brings his son. Together, they deliver mail into the rural heart of China and in the process the son learns from the mails' recipients more about his father.

From Huaihua to Suining, we had to arrive at Dongkou first, then pass lots of small towns to Suining. From Huaihua to Dongkoy, the speedy way is available, it is 103KM far away. From Dongkou to Suining, it is 97KM long, we drove about 2 hours because all roads are countryside roads, the speed of driving is very limited. But on the way, we saw lots of beautiful minority villages.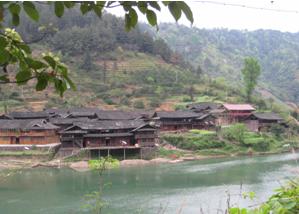 At noon, we had a lunch in Suining county, it is much better than the lunch in Jingzhou.
After lunch, we continued to drive to place which was filmed about the movie, it is Huangsang Nature Reserve. We drove 2 hours to the end of road, we found an ancient village-Shangbao Ancient Kingdom, it is the Capital Sites of Miao Nationality. When we came to the village, we seem to find another world, it is like Shangri-la or Utopia. It is so hard to imagine the small village was a great Miao Kingdom in Ming Dynasty. Although hundreds of years passed, everything is like before, all is protected very well. Their life is never affected by modern time. Standing in the village, I feel time seems stopping, I was listening the sounds from ancient times. The local people are very kind and hospitable, very proud to tell us their history and common life.
Small tips: Shangbao Ancient Kingdom is the best choice for backpackers, more hiking and adventure in the mountain area.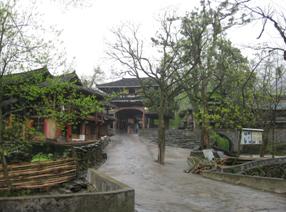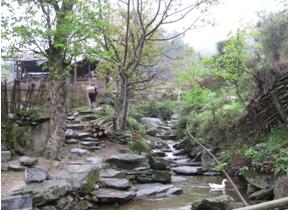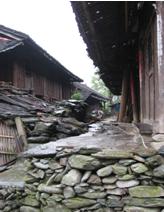 After the dreamy tour in Shangbao ancient kingdom, we drove back to Suining county, then drove to our final destination today, it is Langshan where is in Xinning county.
It is the border area of southwest Hunan Province. This scenic spot occupies an area of 108 square kilometers in all.And it looks over the Hengshan Mountain in the east, abuts guilin City in the south, and echoes to Wuling in the north.
It is divided into five branch of scenic sports.Bajiao Stockaded Village, Niubi Stockaded Village, camel Mountain, Zixia Cave and Fuyi River. It gathers red rosy clouds, green ranges, grotesque peaks. quiet valleys and magical caves and beautiful rivers together and is praised as unknown jadeite in the South and the bright pearl of tourism. Among the scenes, the General Rock, the Tiansheng Bridhge,the Tianyilane.
The Bajiao Stockaded Village, the Camel Mountain and the Pepper Mountain are praised as the best seceneries of China and can be rated as the world natural wonder.Langshan Mountain is authorized as the major national scenic spot and a national geological park.
When we arrived at Langshan scenic area, it was late evening at about 21:15PM, then we tried to find the local best hotel, the only one 3* hotel-Langquan Hotel to stay one overnight.
Day3 29th March, 2009 Langshan-Ziyuan-Xingan-Lingchuan-Guilin
In the morning, we visited the Langshan national geological park, it is the typical Danxia hills. Many shapes of hills are amazing and special. If you like, you can climb up to the top of Danxia hills, it is very enjoyable experience with natural and beautiful scenery.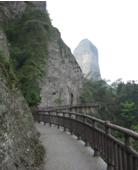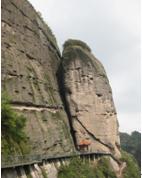 At noon, we had lunch on the way back to Guilin, it was nearly the best lunch on the trip, we ate the local fish, it was very fresh and tasty.
In late afternoon, we finally came back to Guilin city. All of us were so happy to explore the route of southwest of Hunan province. It is very helpful for our work and design the new itinerary for clients if they want to adventure more new area in China.
Although the 3 days trip was hard, I did learn a lot from it, I will keep more enthusiasm and attention to my work, I know I still have long way to go. But now I am expecting for next trip, it would be a new challenge.
Comments
Comment