Multicolored Beach of Xinjiang

More Photos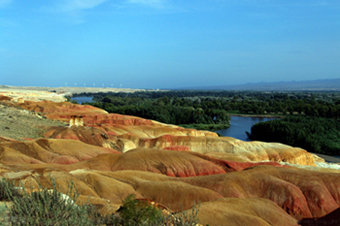 The most beautiful Yadan Landform (a wind erosion physiognomy formed in dry areas) can be found here in Multicolored Beach of Xinjiang. The Multicolored Beach of Xinjiang, Wu Cai Tan in Chinese, is located in Burqin County of Xinjiang. The Irtysh River flows from east to west, through the Multicolored Beach of Xinjiang and into the Arctic Ocean. Belonging to typical Yadan Landform, the Multicolored Beach is gorgeous with multi colors. The nearby Mudao Bridge crosses the Irtysh River, forming glorious scenery with the Multicolored Beach in the sunset.
The Multicolored Beach is the only way to visit Kanas Lake spot. The sceneries on the two sides of the Irtysh River differ a lot. On the south bank, the Multicolored Beach is perfectly reflected with the oasis, desert and blue sky. Under the influence of the river and wind, the Multicolored Beach on the north bank enjoys extremely miracle Yadan landform. The color here is varied, especially under the sunset: red, green, yellow, white, black, etc. On windy days, the Multicolored Beach will become mysterious with different strange sounds coming from the gaps of rocks
Charming sceneries lie on the way to the Multicolored Beach spot: green hills, winding river beaches, babbling waters, thick birch trees... There is also a large-scale wind power station, a new attraction to visit. Between the oasis and desert, there run camels where you will see the pure local life of Kazak herdsmen.
Quick Questions
Our team is waiting for your questions. Please feel free to ask us any questions you might have about our China package tours, Chinese culture, or the sites available. We will gladly help you with any special needs you might have and all questions, like our trip designing is completely free of charge.