Kanas Lake of Xinjiang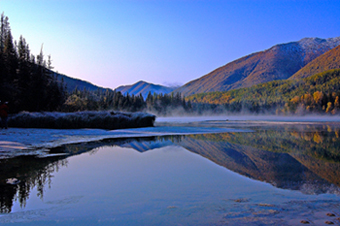 More Photos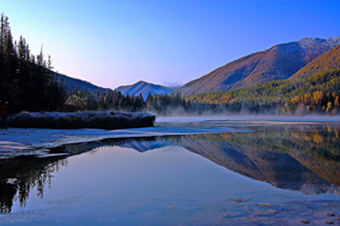 Lying near the Altai Mountains in Xinjiang, Kanas Lake is the deepest freshwater lake. About 117 different kinds of birds live along it. There have been sightings of large lake creatures in the waters. A video was taken and shown in the local Chinese media where numerous unidentifiable creatures can be seen. According to CCTV10, the creatures living in the lake are speculated by Chinese scholar as giant Hucho taimen.
The Mongolian "Kanas" means "the lake in the valley". Covering an area of 45.73 square kilometers with 188.5 meter-deepest point, Kanas Lake is surrounded by the Altai Mountains forest zones. Kanas district is a national reserve with a total protection area of 5588 square kilometers and altitude among 1300-4374 meters. Friendship Peak (4370 meters), the highest peak of Altai Mountains is standing on the joint border of China, Russia and Mongolia.
Not only there are plenty of natural resources and animals in Kanas, the tourism environment and cultural resources here is also rich and unique, perfectly combining vigorous sceneries of North China and charming mountain and river sceneries of South China together. In addition, scenic spots such as Glory in Sea Cloud, Color Changing Lake and Floodwood Causeway have become the most attracting attractions in Xinjiang already.
Arriving in Kanas Lake, you will find a paradise for spending vocations. Thick forests stand by the riverbank, giving out scent of pines. In grasslands on the hill, there are blocks of log cabins, including new European-style houses and local traditional houses of Tuwa People. The lakeside is covered with lush grasses and trees, some trestles stretching to the middle of the lake. Mid-level morning fogs and beautiful lakeside sceneries can be viewed from the bridgehead and you can reach the other side of the river by the yacht. A wooden bridge connects the east and the west of the lake in the drain opening of the lake. Standing on the bridge, flat Dragon Bay is to the north while rushing Kanas River lies to the south. In the evening, everything here is shrouded in golden and smoke is rising to the sky slowly from kitchen chimneys. Such beautiful sceneries of Kanas are entitled the "Oriental Switzerland Scenery".
Quick Questions
Our team is waiting for you questions. Please feel free to ask us any questions you might have about our China package tours, Chinese culture, or the sites available. We will gladly help you with any special needs you might have and all questions, like our trip designing is completely free of charge.