Hemu Tuwa Ethnic Village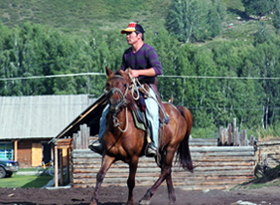 More Photos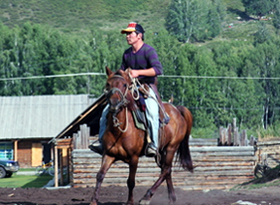 Hemu Grassland is lying in an intermountain fault basin where Kanas River and Hemu River meet, ranging from 1124 meters to 2300 meters. Surrounded by thick and broad mountains and cut by the rivers, the basin has formed complicated landforms. Hemu River runs through and cut the grassland into two parts: in the cloudy slop, there are thick green forests where red deer, marmot and snow cock inhabit; while green grasses and blooming flowers cover the sunny slop in the other side: bees are busy making honey, flocks and herds are playing around the mountain- a charming grassland picture. Hemu town is the northern-most town in West China where the traditional Tuwa Ethnic Group, who preserves the most complete ethnic traditions, lives in its Hemu Village. The Tuwa Mongol is believed to be the offspring of the troops of Genghis Khan when he crusaded west Hemu Village is the biggest village among the three residences of Tuwa people with a total area of 3040 square kilometers. The log cabins of Tuwa People scatter over the alpine grasslands.
Apart from the ancient Tuwa Mongol, visitors also can enjoy the local customs and life with the hospitable Kazakh families in Hemu Grassland. The natural and primitive sceneries of Hemu are beautiful and unique, Hemu River running through from northeast to southwest and primitive villages and grasslands combining perfectly. Reaching Hemu Village, you'll see groups of small log cabins and flocks of herds which construct catachrestic natural and cultural sceneries with snow mountains, forests, grassland and blue sky. These log cabins have become the symbol of Tuwa People, which is simple, ancient-style and with the traditional feature of nomadic nationality. A large part of the log cabin is buried in the earth to keep from the cold that lasts for almost half a year. The house is made up of single-deck logs with diameter of 30 to 40 centimeters so that the house can be both warm and dampproof. A "人" shaped rainshed is fixed on top of the cabins.
Quick Questions
Our team is waiting for you questions. Please feel free to ask us any questions you might have about our China package tours, Chinese culture, or the sites available. We will gladly help you with any special needs you might have and all questions, like our trip designing is completely free of charge.