Fishing Pavilion (Guanyu Ting)

More Photos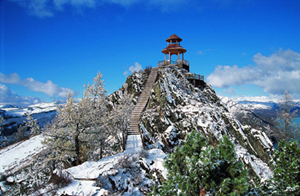 Built on the top of Halakaite Mountain with a 600-meter vertical drop from the Kanas Lake, the Fishing Pavilion is the best site to watch the lake monsters (A video was taken and shown in the local Chinese media where numerous unidentifiable creatures can be seen from the Kanas Lake. According to CCTV10, the creatures living in the lake are speculated by Chinese scholar as giant Hucho taimen). So this pavilion was called Fishing Pavilion, Guanyu Ting in Chinese.
Arriving in the Fishing Pavilion, you can enjoy the beautiful scenery of Kanas Lake. You can have a panoramic view of the Kanas Lake, whose surface is smooth and fairytale. And the Fairy Bay and Wolong Bay are also visible from far. Grasses, trees and waters are changing irregularly with the light. You can also see the beautiful mountains surrounding the Kanas Lake. In the north, there are lots of mountains that block the Kanas Lake, including the highest peak of Altaic Mountain-the Friendship Mountain (4374 meters-high). On top of the Friendship Mountain, there is an icy world, bright and clean.
There are two ways to reach the Fishing Pavilion: by bus (take bus from the behind of the mountain to the mountainside) and by climbing (climb the stone steps from the outlet of the Kanas Lake to the pavilion).
Quick Questions
Our team is waiting for your questions. Please feel free to ask us any questions you might have about our China package tours, Chinese culture, or the sites available. We will gladly help you with any special needs you might have and all questions, like our trip designing is completely free of charge.