Zhouzhuang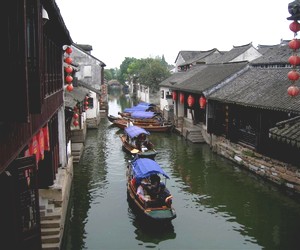 Zhouzhuang in brief
Zhouzhuang, a typical water town, is situated in the southwestern part of Kunshan affiliated to Suzhou, at the junction of Shanghai and Kunshan. It is about 45 kilometres away from Suzhou, and about 100 kilometres away from Shanghai. There are Shanghai Hongqiao Airport, Shanghai Pudong Airport and Xiaoshan International Airport near it. Since trains are impassable here, so are nonstop expressways, visitors have to drive on the ordinary roads after Shanghai-Jiangsu expressway or Suzhou-Jiaxing-Hangzhou expressway. Built in the year of 1086, it was named after the local - Mr. Zhou Digong who donated his land to repair the Quanfu Temple, while in the before it was called Zhen Feng Li. As one of the six great ancient towns in the south of the lower reaches of the Yangtze River, Zhouzhuang enjoys the good reputation as "the first water town in China". Nowadays, it has become one of the most popular scenic spots for travelers to vacation and take their leisure.
History of Zhouzhuang – A Prosperous Market Town of 900 Years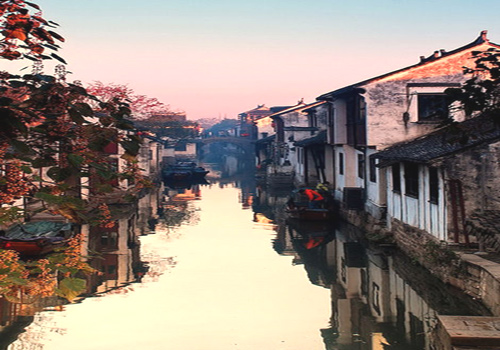 According to historical records, Zhouzhuang used to be called Zhen Feng Li. It was in the year of 1086 the town was renamed Zhouzhuang when Zhou Digong, an adherent of Buddhism, contributed his 13-hectare lands to the Quanfu Temple. The common people were so grateful for his philanthropic act that they changed the name after him. Actually, the then Zhen Feng Li was just an embryonic form of market town, little different from a village. When it came to 1127, owing to the migration of Shen You, father of Shen Wanshan, a legendary tycoon in the south of the lower reaches of the Yangtze River, the town became a populated area and saw prosperity spreading out with Fuan Bridge as a centre. The Shen's conducted sea trade by taking advantage of Baixian Lake, thus transforming Zhouzhuang into a distributing and trading centre of rice, silk and handicrafts. From then on, the town was enlarged, residents increased, and business developed rapidly and vigorously, with outstanding products like silk, embroidery, white spirit and so forth. In some measure, at that time it was really a remarkable market town along Yangtze River.
Zhouzhuang nowadays – a Quaint Water Town for Relaxation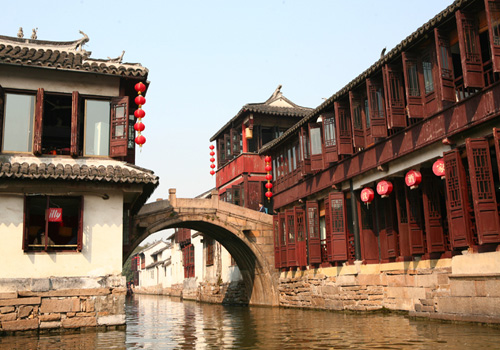 Although it has gone through ups and downs for more than 900 years, Zhouzhuang still remains its original style and layout as a classic water town. Less magnificent than Venice in Italy, this town has its own temperament – tranquility and simplicity. Sixty percent of the dwellings are architecture of Ming Dynasty (1368-1644) and Qing Dynasty (1644-1911); almost a hundred of classic houses and 60 plus tile carving arches are also in sight. In the meanwhile, 14 unique ancient bridges are well preserved here. All these elements compose a sonnet for a golden day! If overlooked, Zhouzhuang is in the bosom of gentle water and enters into peace. When you row a boat on it, you cannot help feeling blending yourself into the splendid but peaceful picture. In the year of 2003, it was praised as Historic Town in China. Zhouzhuang now is a place for relaxation and distraction; more importantly, it is a window displaying Chinese culture.