Zen Music Shaolin Grand Ceremony
Chinese name: 禅宗少林音乐大典 (Chanzong Shaolin Yinyue Da Dian)
Location: In Daixian Valley, 7 kilometers away from Shaolin Temple and ten kilometers south suburb of Dengfeng City, in Zhengzhou City of Henan Province.
Show time: 20:00-21:15 between mid-March and mid-November.
Ticket: CNY 960 for President seat, CNY 428 for VIP seat, CNY 248 for seat in Zone A, CNY 198 for seat in Zone B, CNY 168 for seat in Zone C, CNY 85 for Children.
How to get there: take private vehicle or taxi.
Travel Tips: It's better to bring an extra coat for the temperature is lower than that of city proper.


Brief Introduction to Zen Music Shaolin Ceremony


The Zen Music Shaolin Ceremony is a real-scene musical extravaganza featuring music, dance, light and Shaolin kung fu. Shaolin Zen Music Ritual stages in Daxian Valley with hills standing vertically as backdrop, covering a floorage of 5 square kilometers. Live chants by monks of Shaolin Temple, fabulous stage effect and soothing Zen music constitute to a marvelous artistic work integrating culture, history and nature. The Zen Music Shaolin Grand Ceremony ranks first among top five live-action performances in China according to an online poll.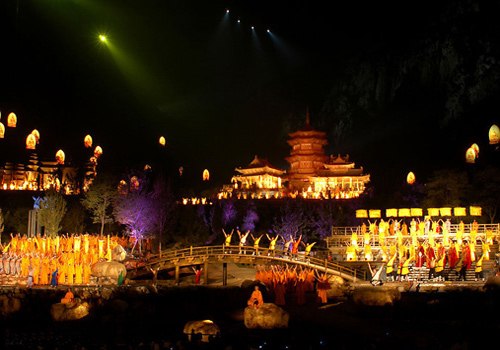 Zen, or Chan as it is called in Chinese, emphasizes togetherness of body and mind, awakening and insight. Music is the ideal way to express the conception of Zen. Zen music together with sounds from water, wind, forest and insects forms a heavenly melody. The stage hidden in valley enables audience to escape from the uproar of the secular. As a splendid audio-visual feast, Zen Music Grand Ceremony contains five movements: Water Music, Wood Music, Light Music, Wind Music and Stone Music.

The first movement - Water Music

Water Music is conducted in three sections: Journey on Streams and Mountains, Listening to Melody of Spring and Piano and Tread Water Songs. The Shaolin Zen Music Ritual kicks off with the emerging of Bodhidharma (the master of Zen Buddhism) sitting in meditation above water. Then a group of girls walk out and dance on a bridge and monks chant in front of temples.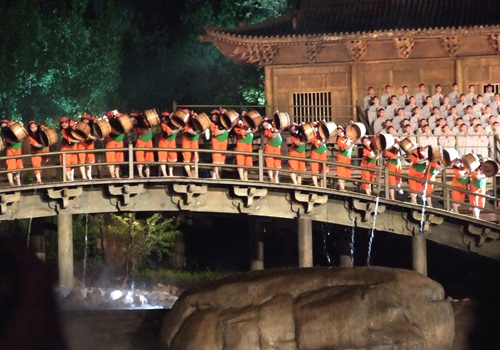 The second movement -Wood Music

Millenarian temples together with sounds of wooden fish (a musical instrument which is knocked when Buddhists conducting meditation) bring audience into a peaceful fairyland. This chapter tells the legend of Shaolin Temple. Shaolin monks knock the wooden fish and demonstrate martial arts. Later the legendary shepherdess shows up with herd. Her song breaks up the meditation of wooden fish and brings beauty of the secular to the pure land of Buddhists.

The third movement - Light Music

On the backdrop of snow capped mountains, cold forest and temples, eminent monks show up and expound the origin of Zen and instruct people to penetrate into life and death. The figures of Buddha alternate with pictures of the world, showing eulogy to all beings on earth. This movement implicates "insight" of Zen.

The fourth movement - Wind Music

The Wind Music tells the origin of Shaolin Temple. It is composed of "Bodhidharma facing the wall" and monks displaying Kungfu. This movement shows the connection between Zen and martial art.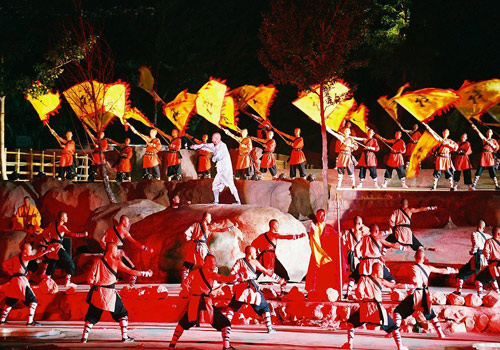 The Fifth movement - Stone Music

In this movement, music of Zen is played with a stone-made instrument. All stones are collected from Mountain Songshan and were formed 3.6 billion years ago. The advent of several sparkling Buddha in the air brings Zen Music Shaolin Grand Ceremony into the climax. Finally, the picture of giant Mountain Songshan shows up from clouds, presenting a peaceful scene of heaven and earth.
Features of the Zen Music Shaolin Ceremony
1. Celebrities join hands. The Shaolin Zen Music Ritual was directed by famous experts from different fields. They are Tan Dun who is the art director of the ceremony and is the winner of Grammy Award and Oscar Best Original Score, Mei Shuaiyuan who is the director and executive producer of the ceremony and the originator of "live-action performance" in China, Huang Doudou who is the executive director and choreographer of the ceremony and an international dancer, Shi Yongxin who is the abbot of Shaolin Temple and the vice-chairman of the Buddhist Association of China, and Yi Zhongtian who is the consultant of Zen culture and a famous professor of Xiamen University.

2. Striking Music. Composed by Tan Dun and performed by National Symphony Orchestra and the Philharmonic, the music has strong national color. Besides, soothing Zen music for meditation shows up in the Shaolin Zen Music Ritual. Sound can be heard several kilometers away thanks to the sound system designed by British experts.

3. Matchless stage effect. The whole stage is controlled by computer with lights, sounds and settings constantly changing. Sometimes snow-capped moountains and ancient temples appear; sometimes streams in mountains show up. Landscape of different seasons can be seen on the stage.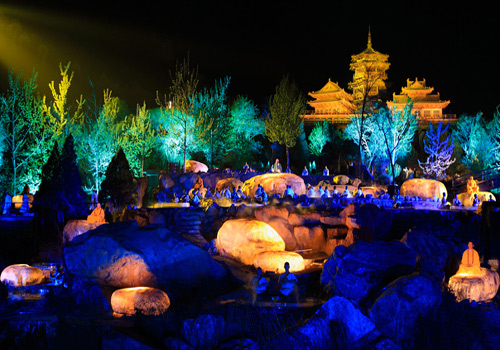 4. Vast stage and backdrop. The stage of Zen Music Shaolin Ceremony covers an area of 5 square kilometers with the 1400-meter-high Shaoshi Peak as background. Real temples and towers give audience an immersive feeling.

5. Strong cast. There are over 600 actors. Monks are selected from Shaolin Temple. Actresses are chosen from the main force of the famous Impression Liu Sanjie. The crowds are chosen from local people. Participation of horses, cattle and sheep add amusement to the ceremony.

6. Magnificent scene. The ceremony vividly displays the landscape of ancient temples hidden in mountains and martial art of Shaolin Temple. Shining Buddha accompanied by music and drumbeats brings the Zen Music Shaolin Ceremony into climax. Chanting of hundreds of monks greatly shock the heart of audience.

7. High standard facilities. Auditorium built along peaks can receive 2,500 audiences. The prayer mats are comfortable and elegant. The road leading to the theater is divided into four lanes with elevated streetlights.

Placement of seats

Stage of Zen Music Shaolin Ceremony

Zone C

VIP seats

Zone A

Zone B

President Seats