Mati Temple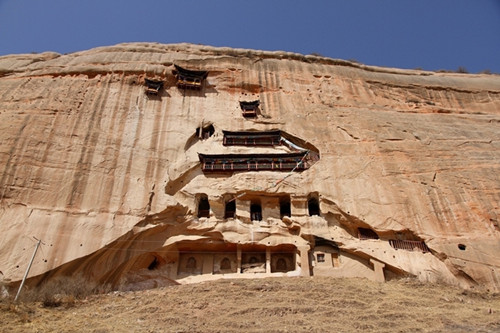 More Photos
Chinese name: 马蹄寺 (Mati Si)
Location: Sunan Yugur Autonomous County, Zhangye
Opening time: 8am-6pm
Best time for visit: all year around
How to get there: Mati Temple grotto is located in the Yugur Minority Autonomous County in Su'nan, about 65 kilometers to the Zhangye City in the north and 96 kilometers away from another famous scenic area- Zhangye Danxia National Geological Park. From the Zhangye downtown to the Mati Temple ,the distance is about 70 kilometers, the driving time will take more than one and half hours due to the steep road. Public transportation to Su'nan is also available in the Nanguan Long-distance Bus Station of Zhangye (leaving every thirty minutes). After arrival at Mati Si village (7km from the scenic area), you can take a taxi or a mini bus to Mati Temple. If you don't want to spend a night in Mati Temple, you should know that the last bus back to Zhangye city leaves around 4PM.
Brief introduction to Mati Si Scenic Area
Mati Temple is also called Puguang Temple or Horse's Hoof Temple in Chinese definition. The whole Buddhist temple complex is composed of Shenguo Temple, Puguang Temple, Qianfo Cave (Thousand Buddha temple), Jinta Temple, Upper Guanyin Cave, Middle Guanyin Cave and Lower Guanyin Cave. All of them are located inside sheer rock cliffs and with wooden pavilions clinging miraculously to the rock.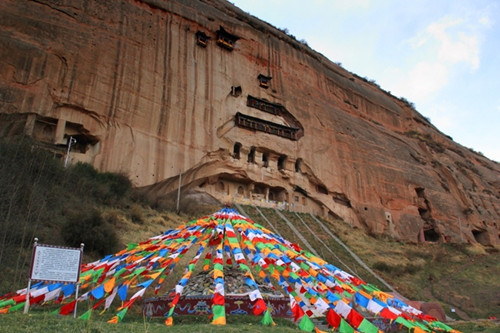 First built in the northern Liang period (397-460), this temple originally was a Chinese Buddhist temple, and later gradually changed into a Tibet Buddhist temple decorated outside with numerous colored flags. Comparing with Zhangye, here is completely different in terms of spirit and culture.
Mati Temple boasts more than 70 caves and shrines. According to the legend, a horse (Chinese Pegasus) from the heaven once left a mark of horse hooves on the ground at here, and thus the temple got its name. The legendary print of the horse hoof still exists in the Mati Hall in Puguang Temple, serving as an indispensable treasure of the temple.
In the Qianfo Cave (Thousand Buddha temple), there is a grand scale of shrines in Buddhist towers carved on the rocks, with a total number of more than 500. The unique big sculpture of Apsaras in Jinta Temple(Golden Pagoda Temple) boasts high art value with the style of old simplicity and elegance, here you can see a mummified body kept in good condition by the dry climate. The Thirty-three-heavens Cave in Puguang Temple has a total of 21 grottoes arrayed in 5 levels. These grottoes are arranged in the form of a pagoda according to the Buddhist theory of the organization of the Universe, with Buddhist halls inside and interconnected by a series of vertical, horizontal and diagonal tunnels and stairs carved into the rock. If visitors want climbing to the top grottoes, they have to challenge climbing narrow passages and dark staircases.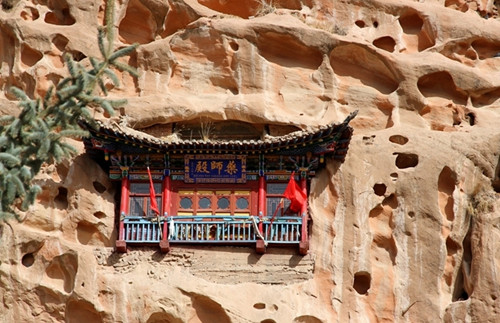 The surroundings of Mati Temple are beautiful. The green hills and waters, peculiar peaks and religion caves are the most famous things of Mati Temple. If visitors have enough time, There are some good hiking routes around Mati Temple recommended, such as the 5-hour round-walk that takes in Linsong waterfall and Jianpishi ("sword split" stone). Alternatively, you can rent a horse instead of feet walking.

Besides, the Mati Temple Scenic Area is distinguished for the Yugur People, which is a unique minority group in Gansu Province, living at the foot of the snow-covered Qilian Mountain. They are the descendants of a nomadic tribe that originally lived in Mongolia. Visitors can stay in the tent of Yugu people, enjoying the pure chang and the delicious big chunks of stewed lamb and experiencing the unique living style and the cultural characteristics in this area. The Yugur people are famous for their folk songs, dances and beautifully embroidered clothing.
Quick Questions
Our team is waiting for your questions. Please feel free to ask us any questions you might have about our China package tours, Chinese culture, or the sites available. We will gladly help you with any special needs you might have and all questions, like our trip designing is completely free of charge.