Giant Buddha Temple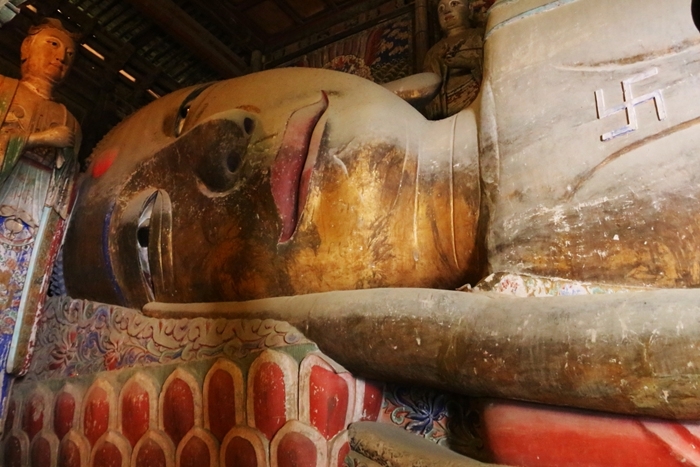 More Photos
Chinese name: 大佛寺(Da Fo Si)
Location: Da Fo Si Lane, West Street of Minzhu, Ganzhou District, Zhangye City, Gansu Province
Opening time: 07:30-17:30
Best time for visit: all year round
How to get there: Giant Buddha Temple locates in the urban area of Zhangye, visitor can take No. 5 bus route and get off at Da Fo Si bus station. It is also easy take a taxi over there.

Brief Introduction to Giant Buddha Temple
The historic city of Zhangye likes a shining pearl mounted on the Silk Road at the midway of the Hexi Corridor, where is about 600 kilometers west of Gansu's provincial capital city Lanzhou. The prominent landmark of Zhangye is the mysterious Giant Buddha Temple (Dafo Temple), which also known as "Wofo Temple" (Sleeping Buddha Temple). Located in the southwest corner of Zhangye, the Giant Buddha Temple is the largest architectural relic in Gansu Province of the Western Xia(1038-1227) Empire. China's largest reclining Buddha is well preserved in this temple. And the Zhangye Museum is also located here.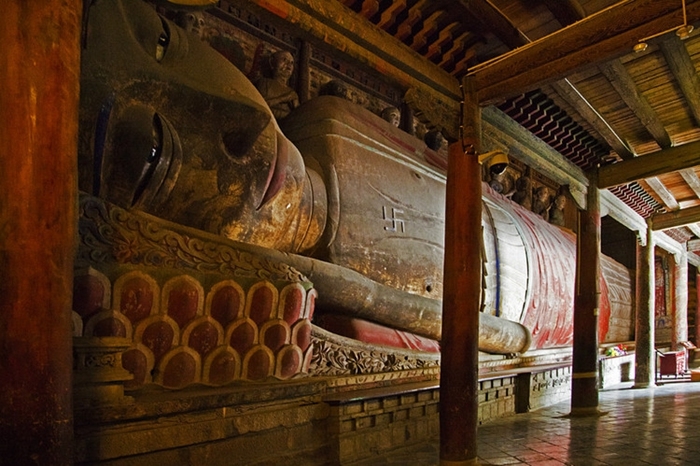 Legend has it that an emperor' advisor named Wei Mie of the Western Xia period had once excavated a reclining Buddha covered with glazed tiles of emerald-color here. To show his respect to Buddhism, the Giant Buddha Temple was built in 1098 to house this Buddha. The temple was restored many times during the Ming(1368-1644) and Qing dynasties(1644-1912).
The existing buiding complex consists of the Giant Buddha Hall, the Buddhist Classics Tower, and a Clay Pagoda.
The two-storied Giant Buddha Hall is 33 meters high, 49 meters wide and 24 meters long, with a total area of 1,770 square meters. The gold-plated and gold-painted statue Giant Buddha depicts Sakyamuni's attainment of nirvana, which locates in the middle of the hall. The whole Buddha is made of clay on a wooden frame and with the length of 34.5 meters and width of 7.5 meters between its two shoulders, with feet of 5.2 meters and ears of 2 meters. Eight people can stand on the ear of this 34.5-meter-long reclining Buddha. The Buddha's calm expression easily moves visitors' hearts. Behind the Buddha are 10 disciples wearing vivid facial expressions, and in two side halls stand 18 Saintly Warriors. The walls of the hall are painted with colorful murals, which depict episodes picked from the Mountain-sea Sutra (an ancient Chinese encyclopedia) and Journey to the West (a celebrated novel written in the Ming Dynasty).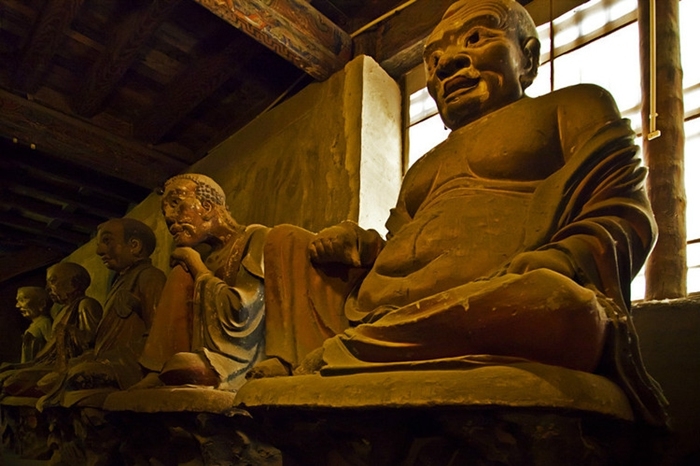 In the Buddhist Classics Hall, more than 6,000 tomes of Buddhism lectures are well collected, some of which, written in gold and silver, which are the rarest and most precious.
The Clay Pagoda, one of the Five Elements Pagodas in Zhangye (now only Clay Pagoda and Wood Pagoda survives), has 13 stories, on the first and the second stories of which are four miniature pagodas, a feature rarely seen in other pagodas.
According to the history records, this temple has a close relationship with the royal families of Western Xia and Yuan Dynasty. It was said that the legendary woman---the wife of Tolui (1190–1232) once lived in the Giant Buddha Temple, giving birth to Kublai Khan (the grandson of Genghis Khan). Kublai Khan conquered China in 1279.
After a big restoration on this temple in 2005, the temple was greatly recovered and rated as a 4A scenic spot in China.
Quick Questions
Our team is waiting for you questions. Please feel free to ask us any questions you might have about our China package tours, Chinese culture, or the sites available. We will gladly help you with any special needs you might have and all questions, like our trip designing is completely free of charge.