Yuli Cuisine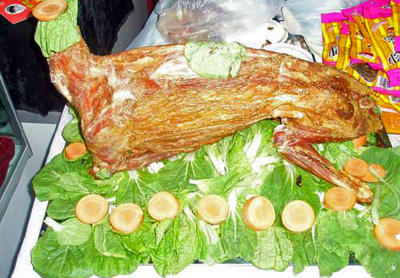 Lopnur grilled fish (罗布人烤鱼)
Natives near the Lopnur (Lop Lake) have been living on grilled fish since ancient times. Roasting fish on bonfire has become a feature of them.
Roast meat bunched on red willow branch(红柳烤肉)
Roast meat bunched on red willow branch is very popular in Yuli County. Mutton, rib chops and pork fillet are mixed with chili powder, cumin and other ingredients, and then baked on iron shelf. Baked kebab is attractive with shiny color and tangy fragrance. Because the meat is bunched on red willow branches, they come with light smell of plant.
Roast Whole Lamb (烤全羊)
It said that the soil in Yuli is alkali; Yuli is a great place for the grazing sheep. Roast Whole Lam is a "king" of Xinjiang cuisine, so it is worthy trying when you are in Yuli.
Nan bread (馕)
Nan bread is a staple food of people living in Xinjiang with a history of over 2000 years. There are some 50 sorts of Nan bread. Those in Luonur region are smaller.
Russian olive (沙枣)
Russian olive is also called Elaeagnus angustifolia, which mainly grow in northeast of China, especially in Yuli.