Sand Lake Scenic Resort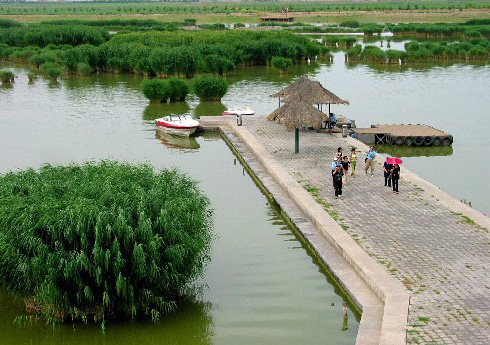 More Photos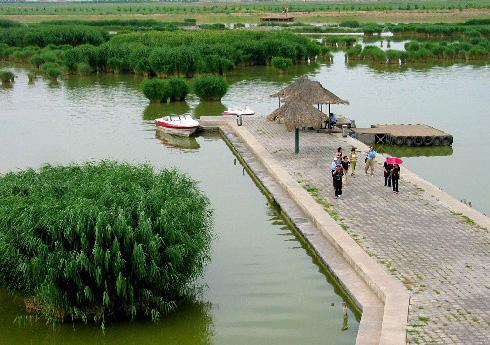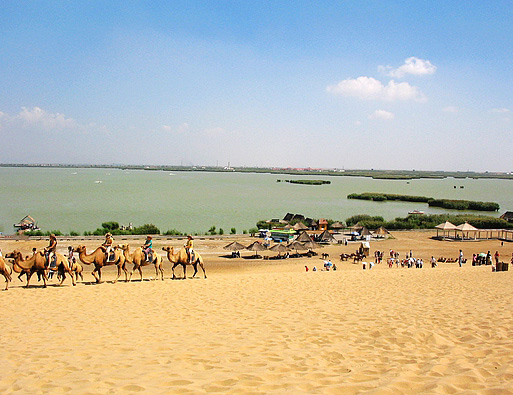 The Sand Lake is one of Ningxia's well-renowned scenic destinations, famed for its spectacular scenery of the peaceful lake, soft sand, aquatic reed and amazing sand sculptures. Located on the desert plains of Ningxia, just 56 kilometers outside the capital city Yinchuan, the desert of the scenic area spans an area of 12.7 square kilometers on which tourist and experience exciting desert activities such as motorbike sliding and camel riding. To the east of the desert flows the mighty Yellow River, to the west lays the towering Helan Mountain Range.
The Sand Lake is North China's best example of a diverse desert ecosystem with a wide mix of different plant and animal life spreading across. There are reportedly 140 different animal species that live within the park alone, there are also about one hundred of different bird varieties. Since 1989 there has been an explosion in tourist activity in the area, currently there are fishing-tours, health-retreats, Hui style gardens, Mongolian Yurts, imitated imperial palaces of Western Xia Dynasty all on offer for visitors to enjoy.
Despite series of activities on offer at the Sand-Lake the highlight is indisputably the amazing and breathtaking natural scenery, the Sand Lake promises to reward visitors with: sand, water, wildlife, mountains and lotus flowers. The huge areas of open space allow visitors to soak up the sheer scale of this desert in its continental climate, and the Sand Lake is considered one of the hidden treasures on the Silk Road.
Quick Questions
Our team is waiting for your questions. Please feel free to ask us any questions you might have about our China package tours, Chinese culture, or the sites available. We will gladly help you with any special needs you might have and all questions, like our trip designing is completely free of charge.