Yangshuo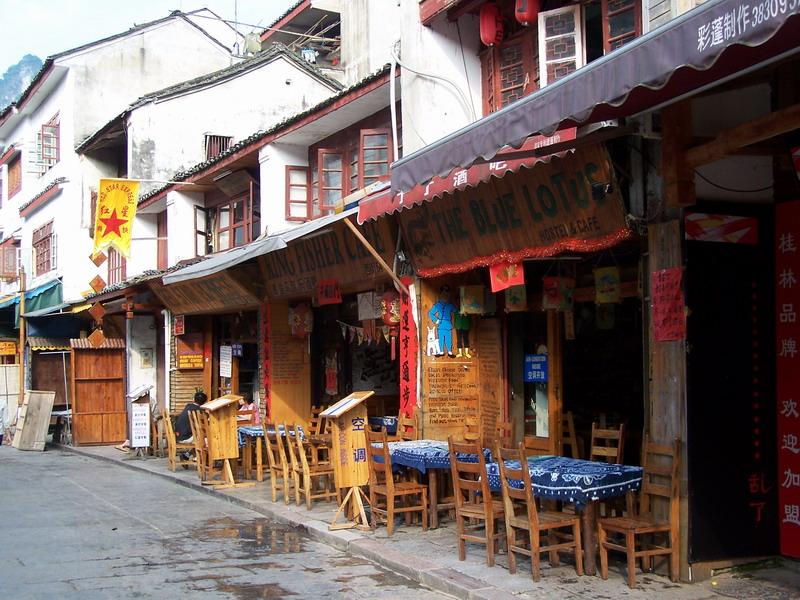 Yangshuo in brief
Yangshuo is justifiably known to the world for its fairy-tale landscape of limestone peaks and mirror-like Li River. A universally recognized conclusion is drawn to depict how beautiful it is: landscape in Guilin is the most beautiful under heaven, yet that in Yangshuo is even more beautiful. Located in the south of Guilin City in China's Guangxi Zhuang Autonomous Region, it covers an area of 1428 square kilometers and is populated by 11 ethnic minorities including Han, Zhuang, Yao and Hui. The landscape of Yangshuo usually refers to the stretch of Li River from Yangdi Pier to Yangshuo and alongside rolling peaks. It is dotted with 2,000 peaks and 16 big or small rivers. The essence of Yangshuo's landscapes lies in the ancient Xingping Town, where Li River snakes through rolling mountains and mirrors the enchanting scenery. Each bend of Li River presents something more interesting to see, from more oddly-shaped mountains, water buffalo strolling on lawns to fishermen paddling their bamboo rafts.Yangshuo County has a pleasant temperature all the year around. All in all, it is loaded with scenic spots, including the Li River, more clean Yulong River ( Meeting Dragon River), Xingping Ancient Town, Shangri-la Scenic Area, Ten-mile Gallery, Green Lotus Peak, Silver Cave, Buddha Water Cave, etc. It also offers tourists with cultural landscapes, such as West Street, cliff carvings at the foot of Green Lotus Peak, old streets and buildings.

History of Yangshuo- a fairyland unveiled by foreigners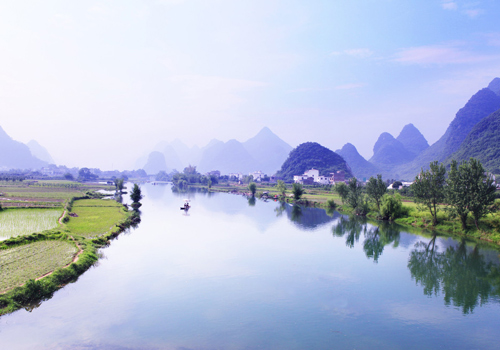 Yangshuo County was established in the year of 265. It has been a municipal county of Guilin City since 1981. The West Street, the existing oldest street of Yangshuo, reveals the history of this small yet charming county. The street was constructed in the year of 590, with few shops standing alongside. It was not until 1970s that it was unveiled by tourists from the west. They were so enthralled by the beautiful scenery of Yangshuo that they had the kind of feeling like Columbus discovered the New World and couldn't wait to place it on travel guide of western publications. In 1980s, more and more tourists were attracted here for relaxing and settling. As time passes by, Yangshuo becomes a global village, a global English Corner. Here you will see people of different skins, different languages and different faiths.
Yangshuo nowadays- a global village and famous tourist destination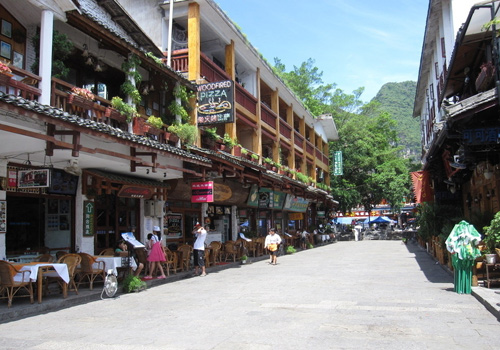 With unique landscapes endowed by nature, Yangshuo is as romantic a place as one could desire. It is the place where you can find your own peace and enjoy leisure life at your own pace. Everywhere is scenic. Visitors to Yangshuo can cruise the Li River, take a bamboo raft on Yulong River (Dragon River) to enjoy sights or watch fishermen fishing cormorants, hike or rent a bike for cycling on Ten Mile Gallery to see the Big Banyan, Moon Hill, Buddha Water Cave and Butterfly Cave, or climb some rocks. At night, visitors can go to a bar on the West Street or watch the show Impression Liu Sanjie, which is performed by 600 singers and dancers on Li River at the background of 12 peaks and is the masterpiece of Zhang Yimou (the director of 2008 Olympic Games Opening Ceremony).