Yangshuo Weather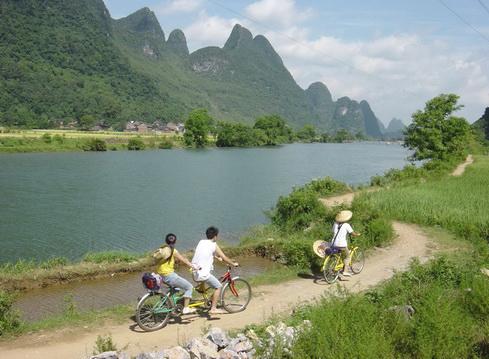 Located in the northeast of Guangxi Zhuang Autonomous Region and the western bank of the beautiful Li River, Yangshuo belongs to middle subtropical monsoon climate with rich heat, abundant rainfall and sufficient sunlight. Influenced by marine climate, it has an annual average temperature of 19 ℃, mean annual precipitation of 1640 mm and relative humidity of 80%.
Seated in lower altitudes and karst area, Yangshuo has long summer and short winter. The coldest month falls in January with an average temperature of 9 ℃ though sometimes the extreme low temperature may down to 1 ℃ or even below 1℃. It seldom snows in Yangshuo, and the snow scenery of Yangshuo is quite charming.
Yangshuo is so world famous that travelers flow over into it throughout the year; it has no distinct peak season and low season here. However, in terms of the agreeable weather, the best time to travel in Yangshuo should be from May to October, during which the clear weather and less rain make it suitable for kinds of open field activities.
From March to September, especially May and June is the rainy season; during the time, Li River and Yulong River enjoy abundant water and offer the most beautiful drifting. July and August are the hottest months with an average temperature of 28 ℃, sometimes the high temperature reach to 35 ℃ or even higher, yet it is the best time for exploration and mud bath in the cool caves.