Yangshuo Transportation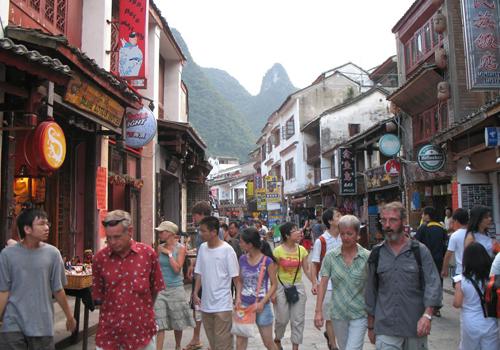 Transportations between Guilin and Yangshuo
1. Take shuttle busses at the square in the front of Guilin Train Station from the 08:00 in the morning to 22:00 at night. The driving is 65 kilometers, and last about 1 hour and cost about 15 yuan.
2. Take Li River Cruise in Guilin, which take off at 09:00 in the morning and arrive in Yangshuo after 4-5 hours' eye feast of the elegant karst landscapes on both banks. The cruise departs at the deck at the south of the Liberation Bridge or at Zhujiang Pier, and finishes at Yangshuo Pier, which just located near to the famous West Street.
By Air
Yangshuo is served by Guilin Liangjiang International Airport, which operates more than 60 daily lines to most tourist cities of China as well as some foreign cities of Japan, South Korea, Singapore, Malaysia, Thailand, etc.
It takes about 1.5 hours from Yangshuo to Guilin Liangjiang International Airport by taxi.
By Bus
Yangshuo Bus Station is located next to the West Street, and has daily coaches to major cities of Guangxi and Guangdong provinces, and shuttle buses to surrounding townships and villages.
Transportations in the County
Minibuses, tricycles and battery cars are available to nearby attractions like Big Banyan Tree, Moon Hill, etc. of which the minibuses can even to some towns like Fuli. And these transportations can be found everywhere.
By bicycle is a popular way for an independent travel in Yansghuo. Only about 10 yuan can rent a bicycle for one day (usually return the bike before 20:00). On the whole, nearly every street provides bicycle renting. Please note that the West Street and the front street of the government office are pedestrian streets that no vehicle is permitted to enter.