Yangshuo Cuisine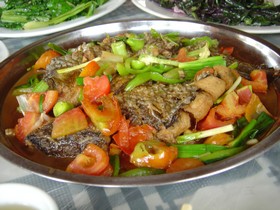 As a famed county among visitors domestic and overseas, Yangshuo is a roost for cate of Chinese dishes from various regions of the country, as well as authentic western-style food. Travel in Yangshuo, Beer Fish is the dish that can not be missed and various Yangshuo Niang (kinds of stuffed food) also worth a try. In addition, psarolepis chafing dish, braised chicken, stewed duck in beer, dog meat dishes and rice noodles lead people to endless aftertastes. As for local snacks, we have to mention handmade noodles, Yangshuo Baba, Yansghuo vivipara, oil tea, and meal cooked in independent little pot. In the West Street, food of different flavors around the world are on offer albeit a little pricy, which can be only found in Yangshuo but no other counties in China.
Beer Fish (啤酒鱼)
A famous specialty of Yansghuo, the fish of the dish is generally the carp from the Li River, which are firstly fried with tea-seed oil from mountain area and then braised in local produced beer. The fresh and tender meat mixed with the scent of beer always appeal to a large number of visitors.
Yangshuo Niang Dishes (阳朔酿)
Niang dishes (food with stuffing), a unique tradition of Yansghuo people, is quite popular especially in the countryside. Almost each feast contains Niang dishes, and nearly each food material can be made to Niang dishes; there are vivipara Niang, shaddock ped Niang, pepper Niang, eggplant Niang, and so on. And the main materials of stuffing are generally pork and beef.
Recommended restaurants: Meiyou Restaurant (没有饭店), Yuanshiren (Primitive Man) Restaurant (原始人餐厅), Mama Moon Restaurant (月亮妈妈农家饭店, for peasant family dishes).
Tips:
1. The chili sauces provided in Yangshuo restaurants are quite hot.
2. A famed county among foreigners, western restaurants in Yangshuo West Street offers various western-style foods.