Buddha Water Cave

More Photos

Located a few kilometers away from the Moon Hill and the Yulong River, the Buddha Water Cave is the biggest underground cave of fantastic karst landform of Yangshuo, Guilin.
Traversing through three mountains for some 5 kilometers, the Buddha Water Cave is separated into three layers: the waterless Paradise scenic area, the mud bath area, and the underground hot spring. Inside the cave various peculiar stalactites stand in great numbers. The left part of the cave is well preserved in its original appearance and the right part provides outdoor enthusiasts with a chance of exciting exploration.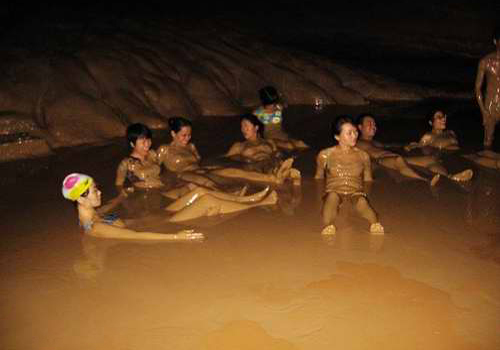 Of all the parts of Buddha Water Cave, it is the mud bath area that appeals to tourists most. 180 meters in length and 150 meters in width with overknee smooth mud, this natural bath pool will touch your skin with pleasant cool, which is believed to be beneficial for skin care. Some Americans and British who have ever tried the bath acclaimed it as "a natural baptism" and "the embrace of orient". After the entertaining bath, the 15-meter-high waterfall at the entrance of the cave will clean your body with the cool stream.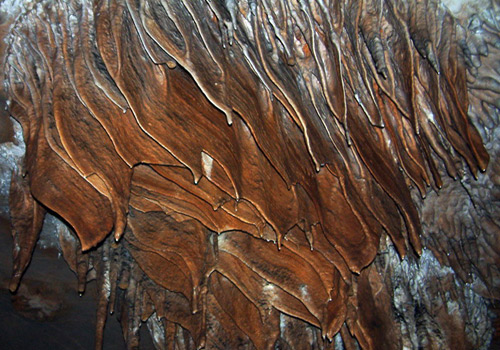 Also, the specially-constructed platform bridge that stretches for 200 meters outside the cave offers a wonderful view of the rural scenery of suburb of Yangshuo.
How to get to Buddha Water Cave?
1. The cave is some 8 kilometer apart from the county town of Yangshuo and it takes less than one hour to get there by bike. Bikes for rent can be seen in the town anywhere. (Normally, 5 Yuan/day for each single bike and 10 Yuan/day for each tandem bike. The prices will double in holidays such as the May Day holiday and the National holiday).
2. Tourists can also take small-sized coaches that depart to Gaotian (高田) at Yangshuo Bus Station. It takes about 15 minutes, about 4 Yuan per person.
Travel Tips for Buddha Water Cave
1. The Buddha Water Cave is developed by the local farmer without guaranteed safety device, so tourists should take care of themselves while visiting the cave.
2. It is strongly recommended to ware safety helmet, anti-skidding shoes and emergency light.
3. The cave is ramose and gravel, so don't go alone or explore without guide.
4. Opening time: 09:00-17:30
5. Limitative visit time for different sections of the cave:
50 minutes for the waterless Paradise area;
30 minutes for the mud bath area;
30 minutes for the underground hot spring.
Quick Questions
Our team is waiting for your questions. Please feel free to ask us any questions you might have about our China package tours, Chinese culture, or the sites available. We will gladly help you with any special needs you might have and all questions, like our trip designing is completely free of charge.