Wild Elephant Valley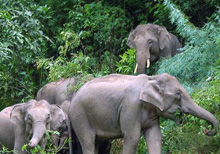 More Photos

Chinese name: 野象谷 (Ye Xiang Gu)
Location: at the western of 213 National Road, Jinghong City, Xishuangbanna Dai Autonomous Prefecture, Yunnan Province.
Opening time: 09:00-17:00 (3 to 4 hours for a visit)
Ticket: CNY 65, CNY 50 for one-way cableway and CNY 70 for round trip.
Best time for visit: during dry season of Xishuangbanna, October-April next year
How to get there:
Take an airplane or sleeper bus or high-speed bus from Kunming to Jionghong, and then take a bus at any bus station of Jinghong to the Wild Elephant Valley, which runs every half an hour.
Travel Tips:
-The wild elephants are more likely to appear at drawn or dusk.
-Elephant shows are given everyday at 11:00, 13:30 and 15:30. Taking photos with elephants charges at least CNY 10 once.
-It is better to prepare some mosquito products and sun block in case of insects and sunlight.
-Keep a distance with the wild elephants to avoid attack.
-Respect the local customs of Dai and other minorities.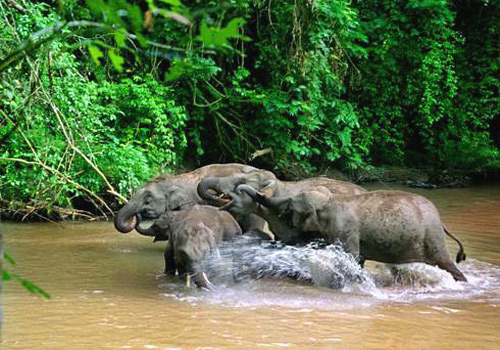 Introduction to Wild Elephant Valley

Located in the south of Mengyang Natural Reserve, 48 kilometers from Jinghong City and 115 kilometers from Pu'er City in Xishuangbanna, the Wild Elephants Valley is the most fascinating forest park known for primeval tropical rainforest and flocks of Asia wild elephants. The Wild Elephant Valley Rainforest Scenic Area is also called Sanchahe Forest Park. It is said that currently about 130 wild elephants frequently appear in the Wild Elephant Valley. In China, Asia elephants can only be seen in the rainforests of Xishuangbanna while the Wild Elephant Valley is the sole place where wild elephants frequently show up .
Originally, People found lots of wild elephants and other animals bathing or drinking water in the "elephant pond" of the Wild Elephant Valley. Since 1980s, subordinate of National Nature Reserve Bureau has been throwing salt at the bank of the pond to entice wild elephants. Flocks of wild elephants were frequently attracted to lick the salt since then. In 1991, the Nature Reserve Bureau of Xishuangbanna established an observation tower in the park. In the following years, The Wild Elephant Valley was developed into a forest park equipped with air corridor, cableway, houses built on crotches of tress, pedestrian path and other facilities.

Highlights in the Wild Elephant Valley
The Wild Elephant Valley covers a total area of 3.7 square kilometers, a water area of 8000 kilometers with an elevation of 747-1055 meters. Apart from the most eye catching rainforest and wild elephants to view, the park has been established with several scenic zones to serve tourists, such as Tree houses, Butterfly Park, Snake Park, Orchid Garden and the Bainiao Garden (where a hundred of rare birds perch in).
Tropical forest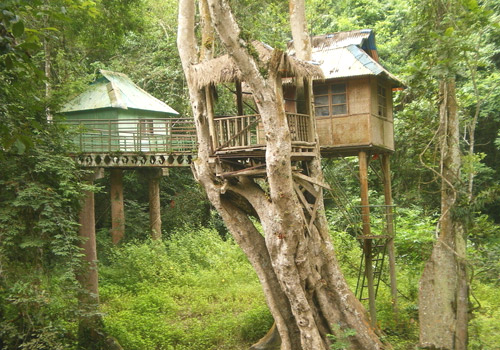 Three are two ways to explore the boundless forest, by the cable way and the thrilling air corridor. In the Forest Exploration Area, a 2063-meter-long cableway will send passengers to view the sights of tropical rainforest in the valley and mountains and monsoon broadleaf forest. Along the pedestrian sightseeing path, landscapes of exposed roots of arbors, old vines winding trees and "strangling tree" (a tall and thick tree whose seeds is spread by bird droppings and grows by absorbing nutrition of another tree) can be seen. In the center of the park, a T-shaped air corridor was built along limpid streams with a length of 200 meters, a height of 6 meters and a width of 1 meter. It is actually a suspension bridge tied between trees. Visitors may indulge in the scene of elephants playing water or seeking for foods and even stay one night at the inns built along the air corridor.
China's Asia elephants

In China, wild elephants are only visible in the Wild Elephant Valley in Xishuangbanna. A flock of wild elephants appear in the Wild Elephant Valley within one or two days. There are observation towers for visitors watching wild elephants. Lucky tourists may have the chance to enjoy the scene of wild elephants bathing, playing and strolling. Tourist can also observe them by infrared binoculars at night. The best time to find wild elephants is at dawn or dusk.

Performances given by elephants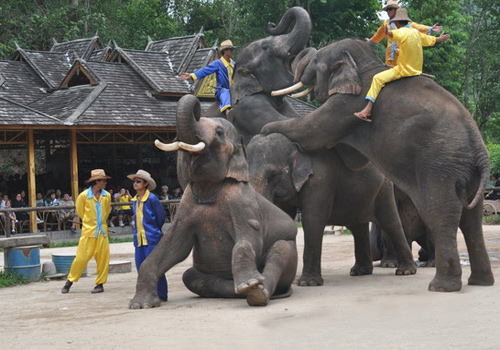 The Elephant-domesticating School is the first of its kind in China. Visitors are able to appreciate performances given by adorable elephants. Well-trained elephants will salute visitors with formal bows, posed in a pyramid, headstand, dance to music, pass the single-log bridge, kick footballs, etc. Visitors can sit on an elephant or take photos with them.
Quick Questions
Our team is waiting for your questions. Please feel free to ask us any questions you might have about our China package tours, Chinese culture, or the sites available. We will gladly help you with any special needs you might have and all questions, like our trip designing is completely free of charge.