Octagonal Pavilion

More Photos

Chinese Name: 景真八角亭( Jingzhen Bajiao Ting)
Location: 14 km from Mengyang County, Jinghong City, Xishuangbanna Dai Autonomous Perfecture, Yunnan Province.
Opening time: 09:00-17:00
Ticket: CNY 10
How to get there: Take a bus at Jionghong Bus Station to Menghai County, and then take a bus to Mengzhe Town which will pass by Octagonal Pavilion.

Brief introduction to Octagonal Pavilion


Jingzhen Octagonal Pavilion is located at the summit of Jingzhen Mountain, 14 kilometers west of Menghai County and 67 kilometers away from Jionghong City of Xishuangbanna Dai Autonomous Prefecture. Originally a component of a local Hinayana temple which has been destroyed, Jingzhen Octagonal Pavilion was built in 1701, the fourth year of Reign of Emperor Kangxi (1661-1722) in Qing Dynasty (1644-1911), for the purpose of Buddhists chanting sutras and holding religious affairs. Octagonal Pavilion is a valuable Buddhist building in honor of Sakyamuni, the founder of Buddhism. The pavilion is an imitation of Sakyamuni's hat. Octagonal Pavilion was included into National Cultural Relic Protection Units by China's State Council in 1988.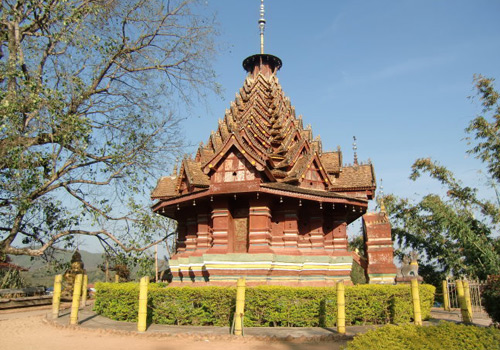 Designed in a wooden and brick structure, Octagonal Pavilion has a height of 21 meters and a total of eights sides each side with herringbone-shaped ridges. All sides are embossed with elephant, tiger, lion and other pictures, like an art gallery. Walls are decorated with light red clay and enchased with mirrors and colored glasses, flashing an extraordinary splendor. Body of Jingzhen Octagonal Pavilion is 6 meters wide and 2.5 meters high with four doors carved with ethnic designs standing at four sides. Each door is connected with stone steps by a wooden ladder. 16 striped columns prop up roof of the pavilion, which consists of ten cone-tapered layers and paved with tiles looking like fish scales, presenting a fabulous Octagonal Pavilion. One layer overlaps another to the top of the pavilion. The herring-shaped ridges are decorated with gilded pagodas, animals and flames-shaped glasses with brass bell suspended from the beneath of eaves. At the top of Octagonal Pavilion, a 16-meter-long slim mast is carved with whistle shaped holes, which tinkle when wind blows. The whole building is extraordinary exquisite and graceful, like a lotus of countless petals. Designed in a combination of Dai and Han styles, Jingzhen Octagonal Pavilion is a masterwork of Buddhist buildings. Around 0.6 miles away, a soaring Buddhist pagoda faces Octagonal Pavilion at a mountaintop. A giant ancient banyan tree stands between them, adding splendor to Octagonal Pavilion.

Quick Questions
Our team is waiting for your questions. Please feel free to ask us any questions you might have about our China package tours, Chinese culture, or the sites available. We will gladly help you with any special needs you might have and all questions, like our trip designing is completely free of charge.