Manting Park(Chunyuan Park)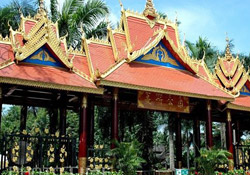 More Photos

Chinese name: 曼听公园 (Manting Gongyuan)
Location: No. 35 Manting Road, Jinghong City, Xishuangbanna Dai Autonomous Prefecture.
Opening time: 08:00-17:30. Bonfire Evening Party starts at 18:50.
Tickets: CNY 40 for admission. A Ticket including Fire Evening Party and buffet is CNY 280 for a VIP seat, CNY 160 for a A seat and CNY 120 for a B seat.
How to get there: By bus No.3.

Brief introduction to Manting Park


Situated 2 km from downtown of Jinghong City, Manting Park owns 65.8 acres with 500 old India ironwoods, other plantation and ethnic cultural landscapes. Manting Park dates back to 1300 years ago when it was imperial garden of Dai royal family. Its beautiful scenery once captured the attention of a queen of Dai nationality, thus it got the name of Chunyuan Park, meaning ''Park of Soul''. Manting Park is the carrier of Dai culture. It is the main venue to hold grand ceremonies of Dai nationality. It was listed as a national 4A scenic spot in the year of 2009.


Manting Park is loaded with things to do. Here you are able to see hospitable minority people, mystical ethnic culture, taste hearty Dai cuisine, unique barbeque and fascinating wine, what's more, enjoy the performances and bonfire evening party accompanied by dancing and singing. Scenic spots within the park include: Ethnic Culture Square, Liana Plantation Area, Tropical Orchid Nursery, Peafowl zoo, Buddhist Culture Zone, Tree-planting Commemoration Area, Tea Garden, and Free Life Lake.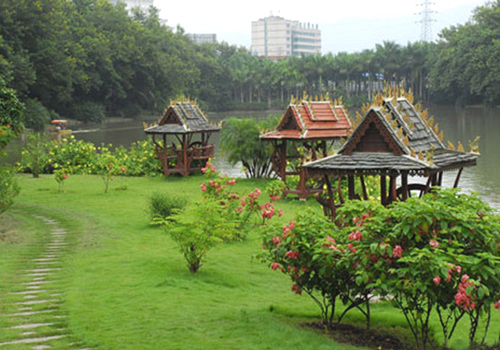 Details about the Manting Park


Entering into Manting Park, the first sight comes into view is the statue of China's first premier Zhou Enlai who is dressed in Dai costumes with a water bowl in left hand and an olive branch in right hand, and the Zhou The Premier Splashes The Water Museum. On its left side is a big banyan planted by a Thailand princess. Besides, there is a Bamboo Shoots Pagoda moldered after Manfeilong White Stupa, a quadrangle pavilion, a hexagonal pavilion and a Dai-style pavilion. Within the Manting Park, Manting Village and Manlongkuang village are accessible for a visit. Tourists can paddle on the Free Life Lake to see wild pandas, wild pigs, snakes and birds, or just watch the Dragon-boat Racing.
The major temple of Xishuangbanna -Wa ba Jie Temple(瓦叭洁), white stupa and octagonal pavilion can be seen in the Buddhist Culture Zone, where you can offer incense to Buddha, free captive animals and take a look at the Palm-leaf Scripture. The Black Forest offers you green grass, colorful blossoms and odd trees. If you have time left over, you can attend the wonderful Campfire Evening Party which starts at 18:50 pm and ends up at 21:45 pm.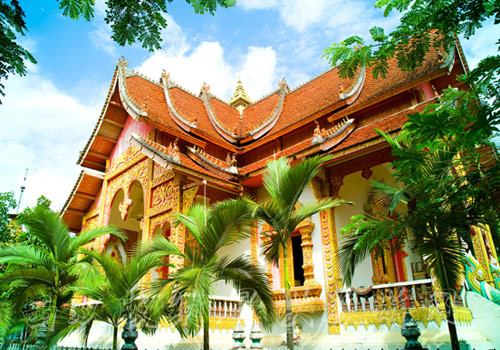 Campfire Evening Party in Manting Park
Manting Park is not about architecture and plantation, which are parts of why we love it, and it's most common to enjoy yourself in the wonderful evening party held inside the park. The Dancing Singing Fire Evening Party of the Lancang-Mekong River showcases songs and dances of eight countries along the Lancang-Mekong River, which include China, Burma, Laos, Thailand, Cambodia, Vietnam, and performances given by minority nationalities of Dai, Jinuo, Blang, Lagu, Yao and Hani. The show integrates ethnic folklores, exotic performances and interactive activities, presenting audiences a multicultural Xishuangbanna.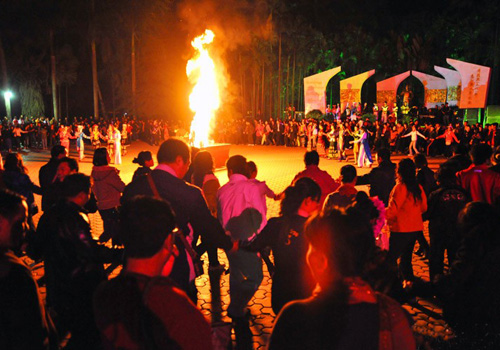 After the performance is finished, people will go through the Black Forest to make wish by putting the water lanterns onto the Free Life Lake. Campfire and dance just go together: every Campfire Evening Party in Manting Park has proved it. Boys and girls of different ethnic nationalities dance around the campfire. Everyone could take part in. Here the hospitality and boldness of ethnic minority is revealed fully. A fantastic evening just slips away unwittingly.
Quick Questions
Our team is waiting for your questions. Please feel free to ask us any questions you might have about our China package tours, Chinese culture, or the sites available. We will gladly help you with any special needs you might have and all questions, like our trip designing is completely free of charge.