Mange Buddhist Temple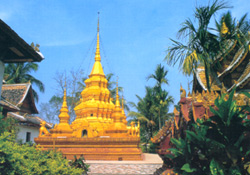 More Photos

Chinese name: 曼阁佛寺 (Man Ge Fo Si)
Location: In Mange Village, Jinghong City, Xishuangbanna Dai Autonomous Prefecture.
Opening time: 08:00-17:00.
Ticket: CNY 2.
How to get there: Take a shuttle bus from Jinghong Bus Station to Mange Village.
Brief introduction to Mange Buddhist Temple
Manga Buddhist temple in Dai language is called ''Wa Man Ge'', literally meaning the central Buddhist temple of Xishuangbanna. Being the oldest Buddhist temple in Jinghong City, the Mange Buddhist Temple is situated on the bank of Lancang River, the Mange Buddhist Temple is magnificent and elegant surrounded by bambusa multiplexes, banyans, mango trees, areca palms, trumpet flowers and other plants. Mange Buddhist Temple looks gorgeous with the Dai-style roof supported by 16 toon-made columns and 16 exquisite white elepants standing on the eaves of the temple. The whole building is overall joint with tenons, without the use of nails and rivets, including the cross beam and columns. Entering into it, you will find a four-meter-tall Buddha standing on the right seat . The ceiling and walls are delicately decorated with vividly pictures of golden dragons, white elephants, fairies, phoenixes, peacocks. Each beam is tied with colorful flags that are embroidered with fairy tales and auspicious animals.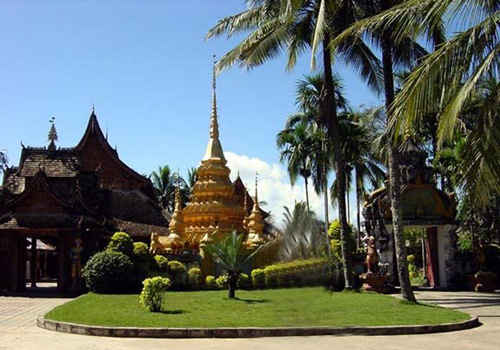 History of Mange Buddhist Temple


It is said that over 8,400 collections of Sanskrit Manuscripts was kept in Mange Temple before the founding of People's Republic of China in 1949. The Sanskrit Manuscripts is the cultural treasure of Dai ethnic minority. Mange Temple was built approximately in the year of 840 in Dai calendar (1477) when the Theravada Buddhism was flourishing in Xishuangbanna Dai Autonomous Prefecture. The Mange Temple has been restored and enlarged for several times. When the Close Door Festival (in mid-July), Open Door Festival (in mid-October), or the Water Splashing Festival (in mid-April) falls, worshippers and pilgrims from near and far will flood into Mange Buddhist Temple to worship the Buddha. In recent years, local government and the Communist Party of China have continuously funded to renovate the Mange Buddhist Temple. The present Mange Temple looks more majestic than before and appeals to numerous tourists from home and abroad.
Quick Questions
Our team is waiting for your questions. Please feel free to ask us any questions you might have about our China package tours, Chinese culture, or the sites available. We will gladly help you with any special needs you might have and all questions, like our trip designing is completely free of charge.