Ganlanba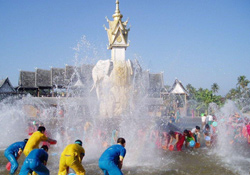 More Photos

Chinese Name: 橄榄坝 (Gan Lan Ba).
Location: 40 kilometers from Jinghong City, Xishuangbanna Dai Autonomous Prefecture, Yunnan Province.
Opening time: 07:00-19:00.
Ticket: CNY100 for Dai Minority Park.
How to get there: Take a bus from Jinghong Bus Station to Ganlanba.


Introduction to Ganlanba


Ganlanba is located in the lower reaches of Lancang River, 40 kilometers from Jinghong City. In Dai language, it is called Menghan. There are hundreds of Dai households living in Ganlanba. Ganlanba is only 530 meters above sea level, being the lowest and hottest place in Xishuangbanna Dai Autonomous Prefecture. Hot and humid weather brings in abundant products for Ganlanla such as a great variety of tropical fruits and plentiful candied fruits.


There is a Dai Minority Park (傣族园, Dai Zu Yuan) in Ganlanba, which contains five Dai villages. A local saying goes that ''if Xishuangbanna is a beautiful green peacock, Ganlanba is its tale and Dai Park is the most eye-catching feather of Ganlanba''. Charming tropical rural scenery along with primitive ethnic culture makes Ganbala an increasingly popular tourist destination. It is not exaggerated to say that Ganlanba is the NO.1 eco-village in China.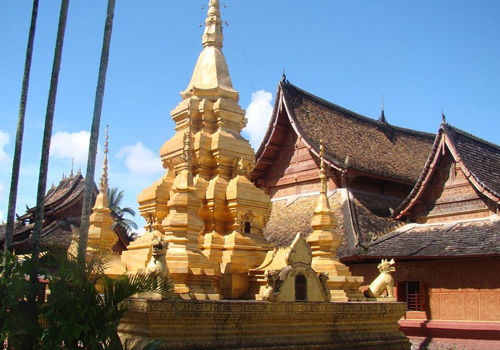 Things to do in Ganlanba

-Visit Dai villages and Buddhist pagodas

Dai Minority Park is famed as a ''village of imperial garden'' with two main Dai villages and three smaller villages. One is Garden Village called ''Man Song Man''. Another is Flower and Fruit Village, namely ''Man Ting''. No matter which village you enter, you will find classical Buddhist temples and traditional bamboo houses of Dai people. Coconut palms, areca trees, mango trees, pineapple trees and other tropical trees can be seen in every corner of the village. Bamboo houses are enchanting framed by green trees.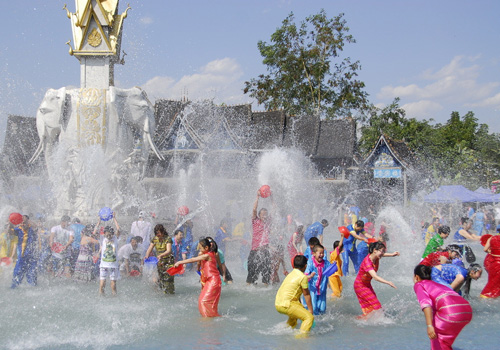 -Join the joyful Water Splashing Ritual

During the grand Water Splashing Festival ( it falls in mid-April and lasts at least three days), New Year celebration day of Dai calendar, Dai people will come to Dai Park to celebrate, worship and go sightseeing. Moreover, there are performances and water splashing activity in the square on every afternoon. Tourists can join them and enjoy themselves in the activity.

-Eating Dai food

In Ganlanba, you will be able to enjoy unique Dai food, which has high reputation in Yunnan Province. Zhutong Fan (rice cooked in bamboo), Nanmi (喃咪), Bamboo Worms are highlights there. At night, visiting food stalls in Ganlanba is a good choice. Local snacks (barbeque, New Year cake, e.g.) and tropical fruits are worth trying.
Quick Questions
Our team is waiting for your questions. Please feel free to ask us any questions you might have about our China package tours, Chinese culture, or the sites available. We will gladly help you with any special needs you might have and all questions, like our trip designing is completely free of charge.