Furong Ancient Town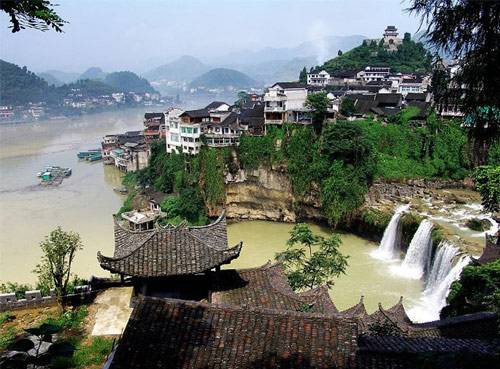 More Photos
Chinese name: 芙蓉镇
Location: Yongshun County, Xiangxi Tujia and Miao Autonomous Prefecture (western part of Hunan province)
Best season to visit Furong Ancient Town: all year round
Recommended time for a visit: about 3hours

Introduction to Furong Ancient Town
Formerly known as Wang Village, Furong Ancient Town has a history of more than 2,000 years. It is called the "Ancient Town Hanging on the Waterfall" because of the magnificent waterfall passing through the town. The movie Hibiscus Town, starring well-known actress Liu Xiaoqing and actor Jiang Wen, was shot here.

Furong Ancient Town is not only a place with a long history, but also a tourist resort that combines natural scenery with primitive ethnic customs. Surrounded by green mountains and clear water, the town is full of winding alleys, the Tujia stilted wooden houses, and streets paved with flagstones, which reflect simple folk customs of the local Tujia people.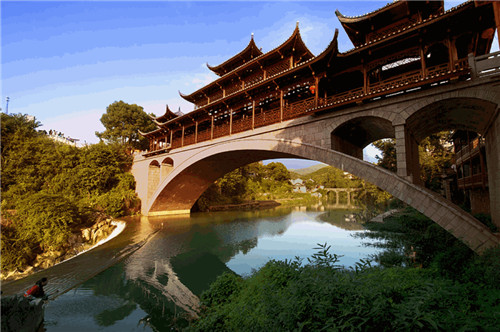 What to see in Furong Ancient Town
Furong Waterfall: the waterfall is the premier natural beauty and a must-see in Furong Ancient Town. Furong town is surrounded by water on three sides, the magnificent waterfall passes through the town. This is the largest and most spectacular waterfall in western Hunan province, with a height of 60 meters and a width of 40 meters. The two levels of water pour down from cliff, and the momentum is quite huge.

Tusi's Residence: also known as Flying-water Village, it is a group of stilted buildings on cliff. The Tusi's Residence next to Furong Waterfall is a highlight of the town. This is the place where Tusi, leader of a minority tribe, chose to build a summer resort. The side of the residence is cliff, and waterfall in front of it is pouring down, very breathtaking.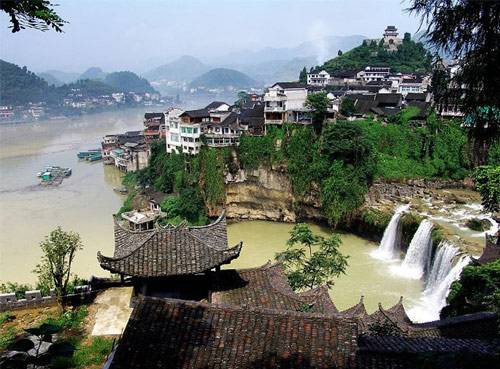 Xizhou Bronze Pillar: it is located in Xiangxi Folk Scenery Museum of Wang Village in Furong Ancient Town. In 940, Ma Xifan, the ruler of the State of Chu, and Peng Shichou, the prefectural governor of Xizhou (the southeast of Yongshun county nowadays), made peace after years of war. They cast the bronze pillar as evidence, and engraved the history of the war and the terms of reconciliation on the pillar. The bronze pillar is hollow, with a length of 2.98 meters. Its lower end is round and the upper end is octagonal. The eight sides of the pillar were engraved with more than 2,600 words. Xizhou Bronze Pillar is regarded as a sacred object by Tujia people. Its special shape and rich inscriptions are of great significance to the study of ancient culture and nationality of western Hunan province.

Wuli Flagstone Street: Furong Town, an ancient town inhabited by Tujia people, has a well-preserved Wuli Flagstone Street flanked by shops with boarded doors and stilted Tujia buildings. The slate street winds its way to the ferry pier on the bank of Youshui River. Looking to the left from the pier, you can see Furong Waterfall and Flying-water Village.

Tasty Food in Furong Ancient Town
Rice Tofu
In Furong Ancient Town, be sure to try the local specialty "rice tofu", a home-cooked snack mixed with edible oil, vinegar and soy sauce. Rice tofu is rich in nutrients, neutralized by acid and alkali, it is helpful to lose weight and beautify the skin.
Ginger Candy
On Wuli Flagstone Street in Furong Ancient Town, you will find many small shops selling ginger candy, which is a very delicious specialty. The candy is made from ginger, brown sugar, water and other raw materials together in an iron pot. It smells fragrant and bites crispy.
Quick Questions
Our team is waiting for you questions. Please feel free to ask us any questions you might have about our China package tours, Chinese culture, or the sites available. We will gladly help you with any special needs you might have and all questions, like our trip designing is completely free of charge.