Xiamen in brief
Located in southern Fujian Province, Xiamen (also called "Amoy") is an important coastal city and a pivotal trading harbor facing the island of Taiwan. The city is renowned for its importance as China's earliest Special Economic Zones in the 1980s, and its power of Provincial-level authority given by the Government in Beijing, as an economic administrator and local legislative power. Since then, the city has tremendously developed its own economy and has been ranked as China's second most livable city in a 2006 survey. The city of Xiamen being highly developed around its port activities, it normally received its present name literally meaning "the Gate of the Grand Mansion". Its architecture has undertaken lots of specificities kept carefully intact until now, letting travelers discover today the gripping old-world charm rarely seen in other Chinese cities.
History of Xiamen – A pivotal commercial harbor to foreign countries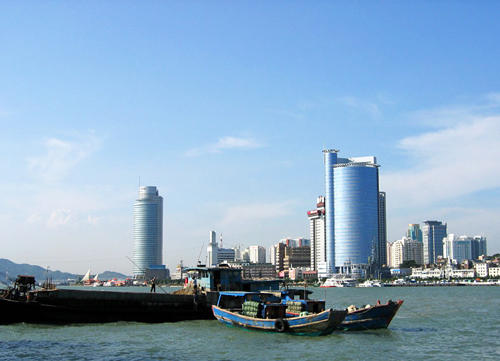 Historians traced Xiamen's history back to the mid 14th century and the early Ming Dynasty, since when the city was established as a major commercial seaport as well as a base against pirates' invasions. Xiamen's harbor was later on highly used by Europeans exporting tea, the area's typical dialect (Amoy) being even said to have influenced the English and European languages in their pronunciation of Chinese words. Closed to foreigners in the 1750s and this until the Opium War, Xiamen was then captured and became one of the first treaty ports. After many changes in Japanese and Western powers, Xiamen finally became a Chinese provincial city and municipality, and was made a China Special Economic Zone in 1980. The dense history of Xiamen is part of its present culture, making it even stronger and flourishing compared to other coastal cities. With such a great interesting past, Xiamen will for sure never let its visitors down!
Geography of Xiamen – Islands and subtropical features
The city of Xiamen is located on the Xiamen Island itself, but Gulangyu Island and a mainland region on the west of the Jiulong River and in the east of the islands of Xiang'an are also generally connected with the name of this city. Xiamen city is connected to the mainland thanks to 5 km-long causeway where train line, road and footpath were set up for the good use of the population. The city enjoys a monsoonal humid subtropical climate.
Xiamen – A modern city
Being ranked as China's second most livable city, this is without any surprises that Xiamen has been also accredited as a National Sanitary City, a National Garden City, a National Model City for Environmental Protection and a National Excellent Tourist City.
Xiamen is for sure worth a visit during your trip to China! Telecommunication services are of the best types (International Direct Dial (IDD), Digital Data Special Telephone Line (DDN), Electronic Data Interchange (EDI) and Express Mail Service (EMS)), giving a quick and convenient connection with the world.
Economy of Xiamen – An attractive seaport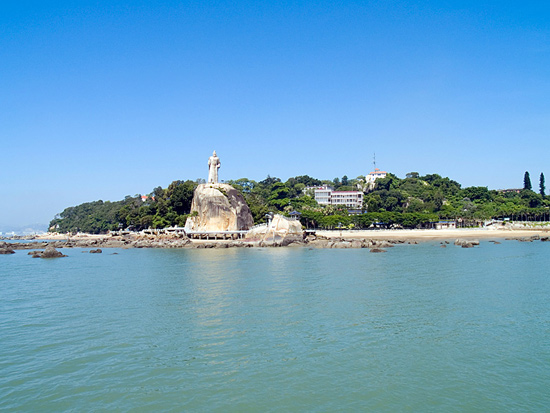 Being an important harbor since its first ages, Xiamen is known as one of the top 10 ports in China, with 80 berths of various sizes exchanging to over 60 ports in more than 40 countries and regions. International and domestic air traffics are also important in this city, as it ranks as a main air hub in all eastern China (Xiamen Gaoqi International Airport).
In high economic and trade relations with 162 countries and regions in the world, Xiamen is recognized as one of the most attractive locations for foreign investors. Xiamen flourishes with a lot of Chinese but also foreign institutions (Citibank (USA), Bank of Orient (USA), Standard Chartered Bank (UK), Credit Lyonnais Bank (France), ING Bank (Netherlands), the Daiichi Kangyo Bank Ltd (Japan) and HSBC), a particularity barely seen in other Chinese cities and where every traveler will find himself home.
Xiamen nowadays – Dynamic and historical city
Apart from the harbor's impressive activity, one of the most interesting parts of Xiamen locates opposite to the Gulang Yu Island, near to the western district. On this area travelers can enjoy the colonial architecture and parks charged with history. The opportunity to take on board for the Gulang Yu Island is also a great chance, as the architectural splendor of villas and ruins is a background for some days of exploration: a well worth experience for Nature and History lovers! In Xiamen, seeing the newly finished "Xiamen international Conference & Exhibition Center" is also a must-see visit as the place boasts as one of the nation's best infrastructure. This particular achievement is an open space reflecting Xiamen high-quality standard for hosting international exhibition events. Full of hidden curio and food shops, Xiamen is just a must-see city on your tour to China.