Xiamen Transportation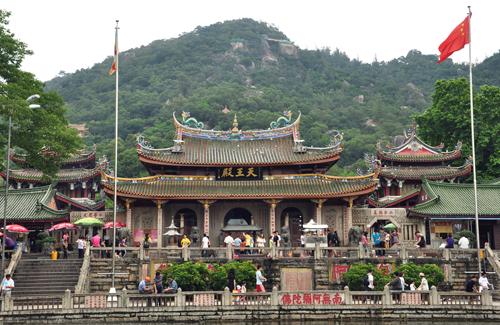 By Air
Currently, Xiamen is served by Xiamen Gaoqi International Airport, which is only 10 kilometers from city center of Xiamen City. It is the fourth largest entry-exit air harbor in China after Beijing, Shanghai and Guangzhou. As a foremost international air transport hub in Yangtze River Delta and Pearl River Delta, Xiamen has flights to more than 50 domestic cities, Hong Kong, Macao, Taipei, and many foreign cities, such as Tokyo, Osaka, Sendai, Nagoya, Los Angeles, Chicago, Bangkok, Kuala Lumpur, Singapore, Djakarta, Manila, Seoul, Rotterdam, Amsterdam, Angkor Wat, etc.
To transfer between the airport and city proper, there are special lines (CNY10/p), public buses No.27, 37, 41, 81, 91, and taxi (generally less than CNY60) for choice.
In addition, a new Xiamen Xiang'an International Airport is in the works in the reclamation area in between Dadeng Island and Xiaodeng Island in Xiang'an District. To be built in 2013, the airport is planed to be larger in both area and passenger throughput than the present one.
By Train
The long embankment spanning on the sea connects Xiamen Island and Xiamen City even by train. In Xiamen Train Station, which is located in the crossing of Xiahe Road and Hudong Road and is reachable by buses No.16, 18, 21, 25, 26, 28, and 37, there are trains departing for Beijing, Shanghai, Nanjing, Hangzhou, Hefei, Nanchang, Yingtan, Xi'an, Chongqing, and so on.
By Bus
Xiamen has three long-distance bus stations, Songbai Station (No.211 Lianyue Road, Siming District), Hubin Station (No.59 South Hubin Road, Siming District) and Jimei Station (No.159 Yinjiang Road, Jimei District). Songbai Station has accordant coaches as that depart from Hubin Station for Zhuhai, Fuzhou and cities along the lines. As for Jimei Station, it is the starting site for coaches leaving for large and medium-sized cities nationwide.
By Ship
With twisting coastline and scattered islands, Xiamen Port has deep water but low waves; it is a natural superior harbor in South China. As a vital port for foreign trade in the history, it is now one of the main ports along the Chinese coastline and the important hub of the comprehensive system of transport of China. Consisting of 10 port areas, it has daily ships departing for Dalian, Tianjin, Qingdao, Yantai, Nanjing, Zhenjiang, Shanghai, as well as scheduled ships for Gaoxiong of Taiwan Province.
City transportation
Public buses- Xiamen has a very developed public transportation system with over 200 lines of buses. In general, buses run from 06:00 in the morning to 23:00 in the evening, and cost from CNY1 to CNY3 according to the distance. The Ferry Port, Xiamen University and Xiamen Train Station are the three main starting stations. Some quite convenient special mini buses in blue are also available, which can stop everywhere but not at appointed stops. Besides, in Xiamen Island, there are double-deck tour and sightseeing buses running along the most amazing views in the island from 08:00 to 19:00 every day, and the price cost CNY20/p.
(Please note: The stops of a same bus line is not always the same as that of its opposite direction, it is necessary to check out stops carefully in advance.)
BRT (Bus Rapid Transit)- Xiamen operate 3 BRTs at present. Each cost only CNY0.5 and depart every 1 to 3 minutes.
Taxi- Taxi fare charges CNY8 within 3 kilometers, and additional CNY2 for every subsequent 1 kilometer. In the nighttime from 23:00 p.m. to 05:00 a.m. the next day, the fare charges CNY9.6 within 3 kilometers and additional CNY2.4 for each subsequent kilometer.
Bicycle- To rent a bicycle to cycle around the Island Ring Road is popular among visitors. Usually, CNY5-15 with a guarantee deposit of CNY300-500 can rent a bicycle for an hour.
Ferry- The ferry to Gulangyu Island opens from 06:00 to 23:00, which costs CNY8 (for round-trip) and the voyage takes about 10 minutes. The tickets offices are located at two sides of Ferry Square. Please note that during typhoon season in August, ferries stop open sometimes.
Cruises-There are Jinmen Cruise and Lujiang River Night Cruise; the former is a sightseeing start at both Ferry Port and Peace Port for views on both sides of Taiwan Straits, which spend about 1 hour and 40 minutes and CNY126; while the later is only available at 19:00 each day for a cruise on Lujiang River with a price of CNY25 and a voyage of 1.5 hours.