Yanxiang Building

More Photos

Built in 1880, Yanxiang Building (Chinese: 衍香楼) is a round earthen construction situated at Xinnan Village of Hukeng Town of Yongding County, Fujian Province. Mr. Su Guxiang, contributor of this earthen building, spent a hard childhood in the village and went to Shanghai to engage in trade at his middle age. After great success in business, Mr. Su went back to his hometown and built this amazing earthen building, and the Name "Yanxiang" symbolizes his wish of multiplying the prosperousness of the family.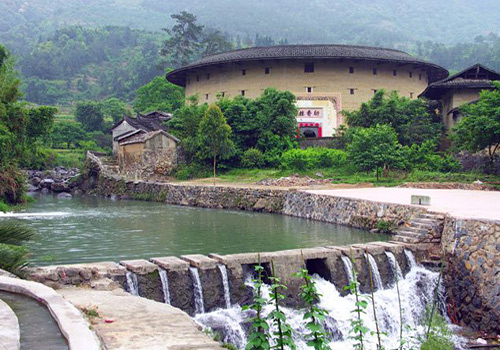 Just like the layout of other local earthen buildings, the inside structure of Yanxiang Building is enclosed by a huge outside round building which is 40 meters in diameter and 14.5 meters in height. With only one gate, this building has 2 wells, 3 halls, 4 staircases and 4 floors with 4 toilets, 6 bath rooms and 136 rooms. In the building live several families, with the first floor being restaurants and dining rooms, the second floor being granaries, the third and forth floor being the bedrooms. The building once suffered from fires by thieves, but fortunately every time the fires were put out by the local fire-fighting appliance.
Features of Yanxiang Building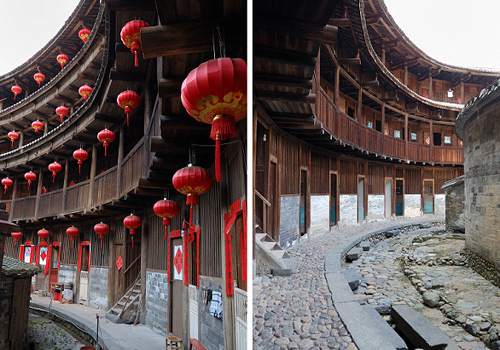 The theory of Eight Diagrams is an old Chinese philosophical theory, which also produced an Eight Diagrams sign. For thousands of years, both of the theory and the sign were used in Chinese people's life, including architecture. The layout of Yanxiang Building was designed based on it. The hall models on that in a mansion house, with antechamber, central hall and back hall. On the wickets and walls including the bounding wall exquisite paintings and calligraphies were carved. What mysterious is that, at the back of the building there are three old pines over 200 years old, on which smog once rose at the end of spring and the beginning of summer in 1979, 1980 and 1981; and that happened again on May 7th of 1993. Such ferlies shock many locals and also interest many scientists.
Situation of the Su Family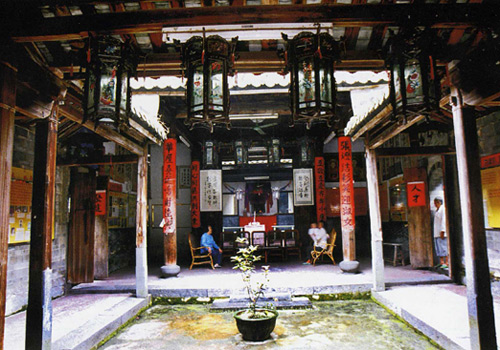 Of Mr. Su's 13 grandchildren, 5 were Xiucai (one who passed the imperial examination at the county level in ancient China) and 1 was Juren (one who passed the imperial examination at the provincial level in ancient China), which was a great honor of a family in the ancient times. To this day, the Su family has developed into a big family of over 500 persons, about 400 of who now live in southeastern Asia and other places in the world. In 2000, hundreds of the Su descendants and guests from southeastern Asia and the special administrative regions of Hong Kong and Macau attended the 120th anniversary celebration of Yanxiang Building.
Quick Questions
Our team is waiting for your questions. Please feel free to ask us any questions you might have about our China package tours, Chinese culture, or the sites available. We will gladly help you with any special needs you might have and all questions, like our trip designing is completely free of charge.