Tianluokeng Earthen Building Cluster

More Photos

Toianluokeng Tulou (Chinese:田螺坑土楼), or Tianluokeng Earthen Building Cluster, is located in Shangban Village, Shuyang Town, about 60 kilometers away from Nanjing County, Zhangzhou City, with a 787 meters height above the sea-level on the hillside. Tianluokeng Tulou, inhabited by hundreds of Hakka people of Wong family, is a national protected cultural site with the most magnificent and well-preserved Hakka Castles in the area. The village is also listed in the Famous Historic Cultural Villages of China for its typical cultural regional system.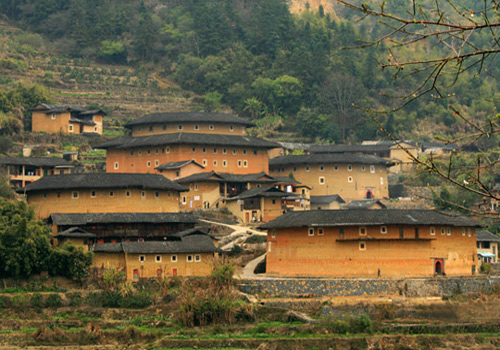 Consisting of one rectangular earthen house (Buyunlou) in the center and three round ones (Hechanglou, Zhenchanglou and Ruiyunlou) and the oval one (Wenchanglou) around, Tianluokeng Tulou, is a most characteristic classical castle among the eight most famous types of Tulou, which attracts millions of people from home and abroad. The castle is nicknamed as "four dishes with one soup" by locals, and its five houses are all three-storey buildings and each with rooms from 22 to 32.
The rectangular earthen house Buyunlou is the oldest one among the Tianluokeng Tulous, which was built in 1796 in Qing Dynasty. It is a three-storey building with four stairways, expressing the founder's wish that his descendants could get promotions step by step. Hechanglou was built just several years after Buyunlou, while Zhenchanglou and Ruiyunlou were built in 1930s and the latest building Wenchanglou was built in 1966. Built for tilt-shaped mountain, these exquisite earthen buildings compose a marvelous scene with nature, and make an intense visual shock to visitors.
Architecture Features of Earthen Building Cluster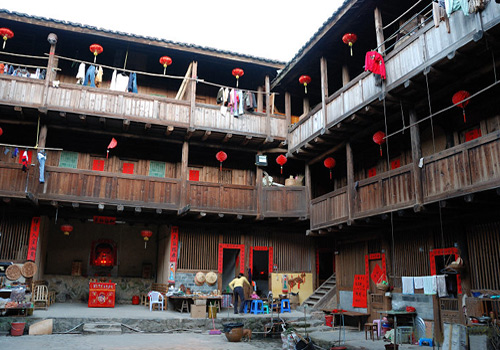 Long Construction Period - Tulou, or earthen buildings are all built in long construction period from 2 years to more than ten years with a large number of wood in cubic meters of 300 to 500. Some huge buildings even need tens of years to be built by several generations.
Practicality - The earthen walls of the castle is strong and solid with thick foundations and thin upper parts. It is in great practicality to defense the wind, water, fire and especially the earthquake. It is marvelous that all the buildings are well- preserved as they all have underwent earthquakes in different degrees.
Strict Structure - Strict structure is another feature of these earthen buildings. There is only one gate of a building with the same size rooms and a courtyard for food storage. It is a strong structured castle which can also prevent thieves and bandits in the past.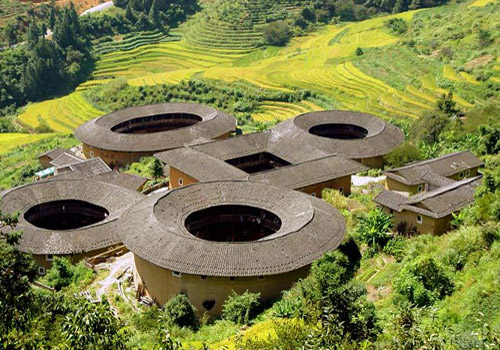 Excellent Chinese Philosophy of Fengshui - Chinese Fengshui, literally means wind and water, is an ancient Chinese system of placement and arrangement of space to achieve harmony with the environment, which can influence the spirits and fortune of the people inhabited. According to the Chinese Philosophy of Fengshui, the locations and spaces between every two buildings of Tianluokeng Tulou were arranged in excellent Fengshui; and the round is the main shape of Tulou is also one aspect of this philosophy, as bad luck may hit the corners while can easily slide away in round roofs. On those corners in rectangular house, the Hakka people will place a board with the Eight Diagrams or special signs to prevent evils.
Legend and Story of Tianluokeng and Miss Tianluo
Tianluokeng Village got its name from its tianluo-like (paludina-like) landform as well as the legend of Miss Tianluo. According to the legend, a young man called Wong Baisanlang is originally a diligent duck-breeding boy, and is lucky get the providential help of a fairy Miss Tianluo, and later becomes a rich squire in the area. Miss Tianluo is just a character in the story, but Wong Baisanlang is indeed the ancestor of the Wong family who lived in Qing Dynasty and started to build these earthen buildings here. His memorial tablet is still placed in the Ancestral Hall of Wong Family, and worshiped by his descendants every year.
Quick Questions
Our team is waiting for your questions. Please feel free to ask us any questions you might have about our China package tours, Chinese culture, or the sites available. We will gladly help you with any special needs you might have and all questions, like our trip designing is completely free of charge.