Taxia Village

More Photos

Taxia Village (Chinese:塔下村) is an exquisite Hakka village, located in a valley in the west of Shuyang Town, Nanjing County. Built in 1426 in Ming Dynasty by Zhang Family, it has been a famous hometown of overseas Chinese and was listed in the 15 Chinese Landscape Villages.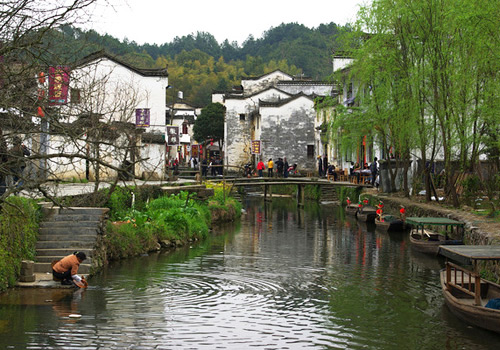 Hailed as Zhouzhuang in South Fujian, there are more than 40 earthen buildings in kinds of shapes as well as some Diaojiaolou (buildings built on wood pillars) in southern style in Taxia Village built along the banks of a clear brook which flows through the entire village. These earthen buildings are built in round, rectangle, apron or trisquare shapes, and the oldest one among them is Fuxing Building built in 1631; the characteristic Diaojiaolou are built in earth-wood or brick-wood structures; the earthen buildings and Diaojiaolou as well as 11 stone arch bridges compose a marvelous spectacle in Taxia Village attracting many people everyday.
Taxia Village is also a famous Longeval Village in Nanjing County with inhabitants of about 1600 people, among which about 220 seniors are old than 60, and more than 30 seniors are old than 80, and the oldest person in the village is 108 years old. It is the fine environment and the healthy ways of life that make people longevous in Taxia Village. People eat rice and vegetables cultivated by themselves and drink mountain spring, they enjoy the working and keep good moods without any greed, and most important, they are a group in good virtue that they are filial and respect the seniors.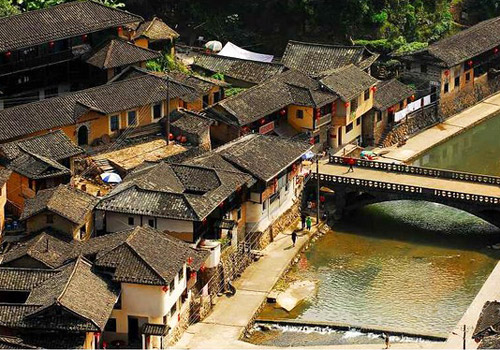 Zhang's Clan Ancestral Hall in Taxia Village
Zhang's Clan Ancestral Hall is one of the best-reserved ancient clan ancestral halls in China with a history of more than 400 years. It was built in the east of the village by Zhang family to memorize their predecessors. On the ancient Pailou (a decorative gateway) of the ancestral hall, a vivid picture of "two dragons playing with a pearl" was inlaid on the colored ceramic chip. On the eaves and roof ridges of the hall are numerous embossments and colorful ceramic chips with legend figures from the Three Kingdoms, Eight Immortals and the Legend of Deification, animals of dragons, tigers, lions, unicorn, phoenix and pheasants, as well as flowers and herbs of peonies, camellias, orchids and chrysanthemums. This ingenious composition is a great unity of form and spirit that make the hall splendid in unique style. At the back of the hall is a lawn connecting with a luxuriantly forest, and in the front is a pond in half round shape with fishes and beautiful shadows. There are also 22 stone flagpoles next to the pond standing like a stone forest in the front of the hall, which were built to memorize the people who have made great contributions to the family.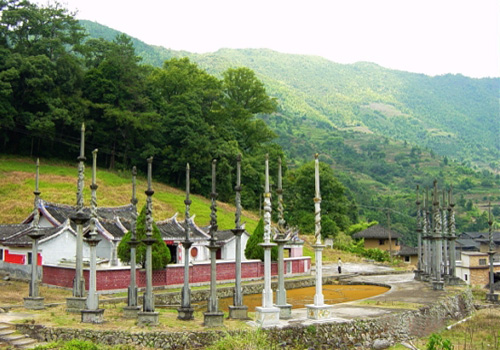 In Tainan County of Taiwan, there is also a similar Zhang's Clan Ancestral Hall built in Qing Dynasty with the same layout, architecture, Pailou, and even the words on the couplets are exactly the same. It is also a clan ancestral hall of the same Zhang Family built by people of the family in Taiwan.
Quick Questions
Our team is waiting for you questions. Please feel free to ask us any questions you might have about our China package tours, Chinese culture, or the sites available. We will gladly help you with any special needs you might have and all questions, like our trip designing is completely free of charge.