Jimei

More Photos

Chinese name: 集美 (Ji Mei).
Location: at the northern side of Xiamen City, Fujian Province.
How to get there: take bus No.18 at downtown Xiamen and debus at Jimei District. If you arrive in Xiamen at the airport, you can take bus No.27 to downtown Xiamen first and then transfer to Jimei; or you can also depart from the airport to Jimei by taxi directly via the Xiamen Bridge.
Introduction to Jimei District of Xiamen
Located at the southeastern coast of Fujian Province, Jimei District is one of the six administrative districts of Xiamen City, the center of Golden Triangle of Fujian Province as well as home to more than sixty thousands oversea Chinese. It has an area of 275.79 square kilometers and is home to several rare national-level animals and plants such as Chinese white dolphins, amphioxi, limuluses and mangrove forest.
The endowed economic and natural advantages are without doubt the points make Jimei eye-catching, but in recent years more and more travelers visit because of its thick academic atmosphere and cultural relics. As a district of culture and education of Xiamen City, the Jimei School Village has complete educational facilities and systems, including kindergarten, primary school, middle school, and university. The Jimei University founded in 1918 by Mr. Tan Kah Kee (or "Chen Jiageng" in Chinese Pinyin, 陈嘉庚, 1874-1961), a famous overseas Chinese leader, comprises 20 colleges with over 60 majors.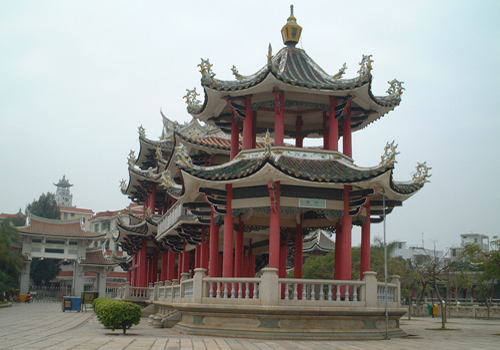 Main attractions in and near Jimei District of Xiamen
Jiageng Park, Jiageng Garden, Guilai Building (former residence of Mr. Tan Kah Kee), Linglinwan Hot Spring Resort, Linglinwan Fishing Base, Ao Garden, Mt. Tianzhu Forest Park, Fengshan Temple at Guankou Town, Dragon Boat Lake, Ten Mile Tike, Jimei Aquarium, Orchard of Mt. Wanbao, Jimei University, Jimei Bridge, etc.
Quick Questions
Our team is waiting for your questions. Please feel free to ask us any questions you might have about our China package tours, Chinese culture, or the sites available. We will gladly help you with any special needs you might have and all questions, like our trip designing is completely free of charge.