Huaiyuan Building

More Photos

Huaiyuan Building (Chinese:怀远楼), or Huaiyuan Earthen Building, built in 1905 in late Qing Dynasty, is located in Kanxia Village, Meili Town, some 54 kilometers from Nanjing County. Covering an area of 1384 square meters, Huaiyuan Building is 4-storey round earthen building in the height of 14.5 meters with 136 rooms. It is the best preserved earthen building with the most exquisite construction technology in Nanjing County and has been listed in the national protected historical and cultural sites in 2006.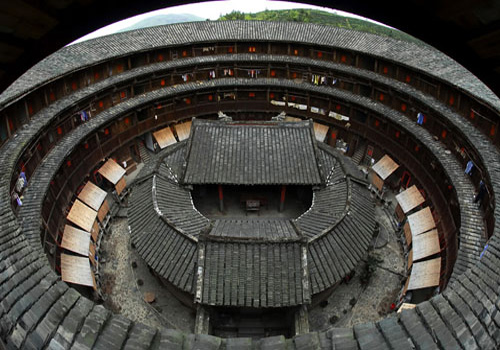 The foundation of the wall of Huaiyuan Building was rammed from large cobblestones with a mixture of lime, clay and sand in a height of more than 3 meters and the surface of the wall remains clean and smooth without any cracks. This foundation of the wall was built according to the mechanics in an olive shape with a bigger diameter in the center and smaller ones in two sides; it is this special structure that makes the building strong enough to prevent storms and earthquakes for dozens of years.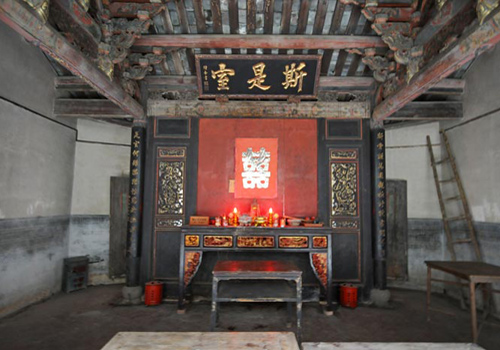 Originally built by Jian Family as their dwelling, the Huaiyuan Building now has become the residence of about 60 people from 17 households. Huaiyuan Building is an interesting round earthen building with another monolayer round building in it, which is a brick-wood one and used as an ancestral hall as well as a private school of the family. It is rare that a school was built in such a small-scale earthen building. Maybe it is related to the founder's great cultural literacy. The whole building, especially the ancestral hall is rich in cultural atmosphere. The ridgepoles, doors and windows are decorated with beautiful carvings and exquisite paintings in the ancient style, and numerous plaques and couplets are seen everywhere; all the words on the plaques and couplets given by the predecessors are expressing the same idea that all the happiness and fortunes can only attain from hard works. In addition, "Huanyuan" is also a name with ternary literally meanings in Chinese, to memorize the founder's distant hometown Huaiyang, to miss his distant relatives and friends and to encourage children to work hard with great ambitious.
Quick Questions
Our team is waiting for your questions. Please feel free to ask us any questions you might have about our China package tours, Chinese culture, or the sites available. We will gladly help you with any special needs you might have and all questions, like our trip designing is completely free of charge.