Hegui Building

Hegui Building, or Hegui Earthen Building (Chinese:和贵楼), is located in Pushan Village, some 53 kilometers away from Nanjing County, Zhangzhou City. Built in 1732 in Qing Dynasty, with an area of 1547 square meters, the five- storey rectangle Hegui Building is in a height of 21.5 meters, which is the highest earthen building in Nanjing County. Constructed on a swampland, Hegui Building is a national protected site and has been listed in the World Cultural Heritage. It has 140 rooms with one gate and 4 stairways in four directions. The thickness of the earthen wall gradually decreases along with the increase of floor; the wall is 1.34 meters thick in the first floor but only 0.65 meters in the fifth floor.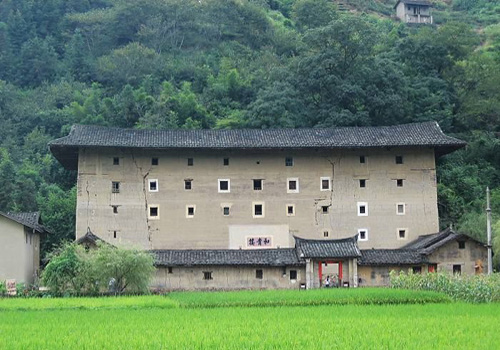 The name of the building Hegui literally means harmonies. Harmony is the fundamentality in interpersonal relationship in the traditional Chinese Culture. Just as the name suggests, people's life in Hegui Building is quite harmonious and peaceful. In the courtyard of the building, there are several houses functioned as a school in the past for those children lived in the building. From the name and the school, we could learn that the founder of Hegui Building was a person of great virtue who very concerned about the traditional concept and the education.
Four Odds of Hegui Earthen Building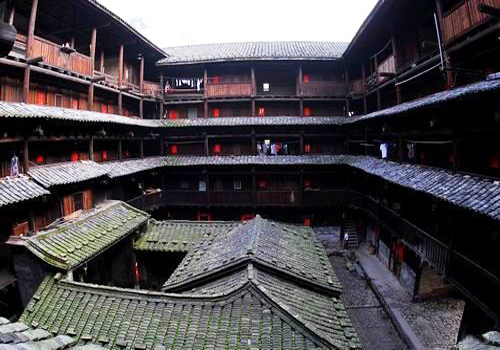 There are four interesting odds in Hegui Earthen Building. Firstly, it is the highest rectangle earthen building in the county. Secondly, it was constructed on a swampland just like a rest ship and has been incredibly intact for more than 200 years. Thirdly, there are two water wells in the courtyard just about 10 meters apart, but waters of them are totally different. Water in one well is sweet and clear while the other is dirty and turbid. These two wells are nicknamed as Yin-yang Wells (yin and yang is used to describe two opposite objects in Chinese philosophy) by locals. Lastly, Hegui Earthen Building is a building surrounded by houses and it surrounds some houses itself. Some monolayer houses were built around it while houses of a school were built in the courtyard of it.