Gulangyu (Isle of Blown Waves)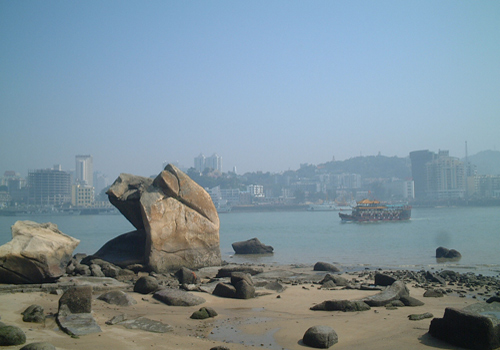 More Photos

Chinese name: 鼓浪屿 (Gu Lang Yu).
Location: Siming District, Xiamen City, Fujian Province.
Tickets: Sunlight Rock (CNY60), Shuzhuang Garden (CNY30), Bright Moon Garden (CNY30) – a coupon ticket for the three attractions is CNY100; Hi Heaven (CNY60), Organ Museum (displaying musical instrument, CNY20).
Best time for visit:
Most time of the year is suitable for visiting Xiamen. But if you want to watch the clear sea views of the city, it is suggested to avoid July, August and September, which are seasons of typhoon and few boats sail.

How to get to Gulangyu Island: Generally, travelers depart to Gulangyu from Xiamen by ferryboat. It costs CNY8 to board a ferryboat in Xiamen to Gulangyu and is free for the return trip. Extra CNY1 is needed for accessing the second floor of the ferryboat to view landscape or take photos.
Frequency of Ferryboats of Xiamen to Gulangyu Island:
05:45-07:00 (sailing every 15 minutes);
07:00-19:00 (sailing every 10 minutes);
19:00-21:10 (sailing every 15 minutes);
21:20-23:40 (sailing every 20 minutes);
The last ferryboat sails at 00:30.
Frequency of Ferryboats of Gulangyu Island to Xiamen:
05:30-07:00 (sailing every 15 minutes);
07:00-19:00 (sailing every 10 minutes);
19:00-21:00 (sailing every 15 minutes);
21:10-23:40 (sailing every 20 minutes);
The last ferryboat sails at 00:00.
Remark: the sailing takes only 5 minutes and the above frequencies might be irregular during holidays or under special circumstances.
Gulangyu Island Travel Tips:
1. The ferry pier of Xiamen is less than 25 km from the railway station and can be accessed by bus No. 3, 19, 25, 28, 950 or 951; it is less than 3 km form Xiamen Coach Station and can be accessed by bus No.10, 23 or 30; it is some 16 km from the airport and can be accessed by bus No.27.
2. Gulangyu is a small island with few motor vehicles. Battery cars, the main transportation on the island, stop at the gates of some important scenic spots only. But it is possible to travel on the island on foot.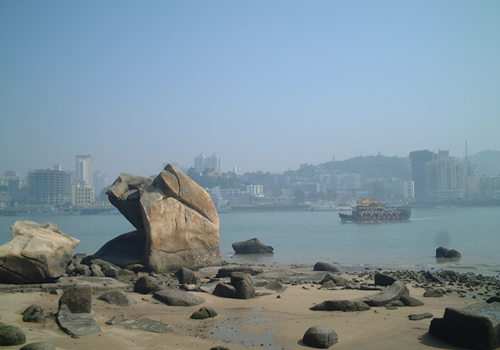 Introduction to Gulangyu Island
Facing Xiamen at a distance of some 600 meters across the Lujiang Ocean, Gulangyu is a small island of 1.87 square kilometers with less than thirty thousand inhabitants and is now under the administration of Siming District of Xiamen. Gualngyu, literally "small island of tum-like surfs", was originally named Yuanshazhou or Yuanzhouzai and was renamed so since Ming Dynasty (1368-1644) because of the thundery surfs beating against the corroded caves on the island.
Endowed with pleasant weather and protected from insufferable traffic, Gulangyu is a national-level scenic spot hailed as "a garden on sea", with many attractions: Sunlight Rock, Shuzhuang Garden, Bright Moon Garden, Yu Garden, Gulang Rock, a museum, Memorial Hall of zheng Chenggong, Underwater World, natural seaside resort, Hi Heaven Café, etc., which make the island top on the Top Ten Scenic Areas of Fujian Province and one of the 35 most famous tourist destinations of China.
Today, a series of adequate and systematic services for tourism have been completed on Gulangyu Island, providing not only sightseeing but also shopping and entertainment services. A six kilometers long road with tunnel and curved bridge has constructed around the island for travelers' convenience. In addition, Gulangyu is hometown of many famous Chinese musicians with a strongest piano density in China, hence it also known as "cradle of music" and "island of pianos".
Old Structures of Consulates on Gulangyu Island
After the Opium Wars, fifteen powers, including the U.K., the U.S., France, Japan, Germany, Spain, Portugal, etc., once established consulates on Gulangyu; meanwhile, foreign merchants and missionaries set foot on the island in succession, founding "consular corps", "municipal councils" and "joint court", building residences, churches, foreign firms, hospitals and schools, which made Gulangyu an "international settlement". Some rich overseas Chinese merchants arrived here to start telephone and tap water careers on Gulangyu. In December of 1942, it was totally occupied by Japan and the colonial domination did not end up until Japan lost the bell in the World War II.
For the historical reasons, nowadays many constructions in western architectural styles, e.g. Greek ionic pillars, Romanesque columns, Gothic pinnacles, Islamic domes, Baroque embossments, can still be seen on Gulangyu Island, presenting the Classicism and the romanticism of the West and making Gulangyu a museum of constructions.
Quick Questions
Our team is waiting for your questions. Please feel free to ask us any questions you might have about our China package tours, Chinese culture, or the sites available. We will gladly help you with any special needs you might have and all questions, like our trip designing is completely free of charge.