Chuxi Earthen Building Cluster

More Photos

Chuxi Earthen Building Cluster (Chinese:初溪土楼群) is located in Chuxi Village some 15 kilometers from Xiayang Town, Yongding County. It consists of five round earthen buildings and dozens of rectangle earthen buildings. With great historical, scientific and artistic values, these earthen buildings were well-spaced on the hill by the river with beautiful terraced fields, presenting a grand and magnificent spectacle. Chuxi Earthen Building Cluster was built from the early 15th century with the oldest one named Jiqing Building which was built in 1419.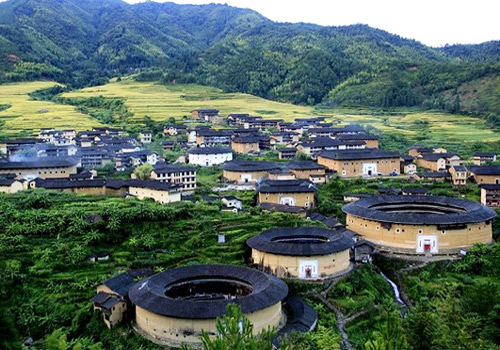 Some Distinctive Earthen Buildings in Chuxi Earthen Building Cluster
Jiqing Building - Jiqing Building is the representative of the Chuxi Earthen Building Cluster. With a history of almost 600 years, it is the oldest and most special round building in the area. Different from the general earthen buildings that usually got two or four public stairways, 72 separate stairways are equipped in Jiqing Building that divide the whole building into 72 independent units for 72 households. It is in this only one earthen building that people can totally live with private spaces. Compared with other earthen buildings, Jiqing Building is also special that only one gate is equipped in such a large earthen building, and there is no well in the building that people need fetch the water from the river beside the building.
Built by the paper dealer Xu family, all the rooms, stairways and interior walls of Jiqing building were constructed with wood and rabbet structure without a single nail, while it remains intact for nearly 600 years. Jiqing Building now served as an earthen building museum with no inhabitants.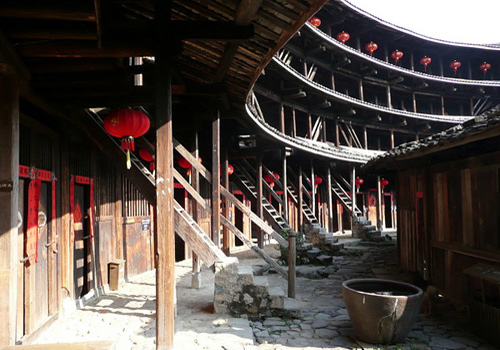 Shanqing Building - Shanqing Building is next to Jiqing Building. It is the latest building in Chuxi Village built in 1979 with an area of 630 square meters in three storeys. The most distinctive feature of Shanqing Building is its great day lighting. The corridors of the ground floor and the courtyard are all covered with square granites in the same size which produce a great lighting and ventilating in the building.
Shengqing Building - Built in 1799 with an area of 1482 square meters, it is an earthen building with two coaxial rectangle buildings.
Gengqing Building - A round 3-storey earthen building built in 1840 with an area of 660 square meters.
Gongqing Building - A hexagon 4-storey earthen building built in 1949 with only one gate. With four angles in the front part and two in the back, it is a building that front lower and back higher.
Quick Questions
Our team is waiting for your questions. Please feel free to ask us any questions you might have about our China package tours, Chinese culture, or the sites available. We will gladly help you with any special needs you might have and all questions, like our trip designing is completely free of charge.