108 Pagodas

More Photos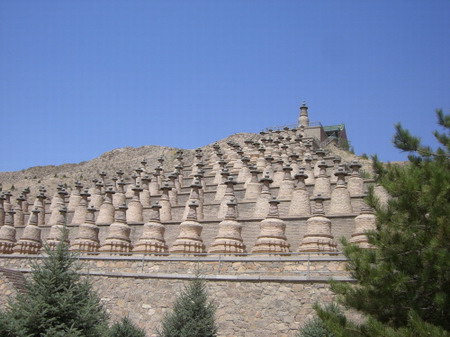 Near the Qingtong Gorge in Wuzhong of Ningxia Province, there is a massive construction of 108 pagodas resting off a major cliff face. Constructed in Western Xia Dynasty (1038-1227), this bizarre and unique sight has a strange but undeniable beauty.
Each row of the pagodas built perfectly into the cliff-face move were built over times in single rows, the final structure sits in odd rows of 1,3,3,5,5,7,7..etc that serve to form a triangular shape, the whole collection of pagodas is supported by a massive buttress.
The pagodas is built out of bricks where constructed and designed by local Buddhists, with 108 representing a significant religious number in Buddhism. It is said that anyone who walks around all of the 108 pagodas will have eternal luck.
Quick Questions
Our team is waiting for you questions. Please feel free to ask us any questions you might have about our China package tours, Chinese culture, or the sites available. We will gladly help you with any special needs you might have and all questions, like our trip designing is completely free of charge.