Wuyishan Transportation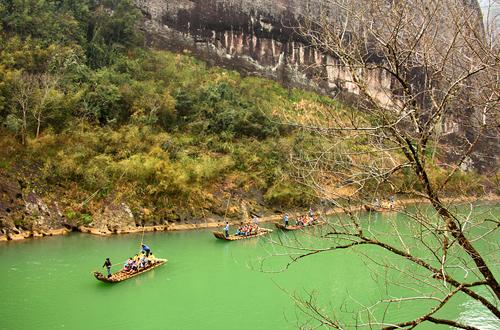 By Air
Wuyishan Airport, only 15 kilometers to Wuyi Mountain, has about 10 flights to Fuzhou, Xiamen, Beijing, Shanghai, Wuhan, Guangzhou, etc. Outside the airport, public buses are available to transfer passengers to most attractions of Wuyishan City. And about CNY40 can take a taxi to the city center or to Wuyi mountain resort.
By Railway
To get to Wuyishan by railway, there are through trains from Fuzhou, Xiamen, Quanzhou, Beijing, Shanghai, and Shenyang; for those cities without through trains to Wuyishan, travelers can choose to take a train to Shaowu (also in Fujian Province), which offers shuttle buses to Wuyishan every one hour in the day time with a 3-hour driving, or take a train to Shangrao (in Jiangxi Province), which opens coaches to Wuyishan also every one hour in the day time with a 4-hour driving.
From Wuyishan Train Station, there are bus No.6, minibus (costs about CNY20/p), or taxi (costs about CNY30) to get to Wuyishan Mountain Resort.
By Land
Nanping and Shaowu of Fujian Province, and Shangrao of Jiangxi Province are the stops to get into Wuyishan, all of which offers coaches to and from Wuyishan. It takes about 3 hours from Shaowu to Wuyishan, and about 4 hours from Shangrao to Wuyishan.
City Transportation
Public bus- No.6 and a special line between downtown area to Xing Village can transfer travelers in between city proper and the Wuyishan Scenic Area.
Taxi- taxies in Wuyishan is not charged by starting price and mileage fare, it is wise to bargain with the driver in advance. In general, CNY30-40 can transfer in between city center and Wuyishan Mountain. And in most large scenic spots in Mount Wuyi Scenic Area, taxies are all available.