Jichang Garden

More Photos

Jichang Garden (Chinese:寄畅园) is located beside Hui Mountain Temple in Xi Hui Park of Hui Mountain, to the west of Wuxi, Jiangsu Province. As a classical southern garden, Jichang Garden was listed as an important protected national heritage site in 1988. The site was originally the monks' dormitories, and from 1527, it is gradually built into a garden by Qin family.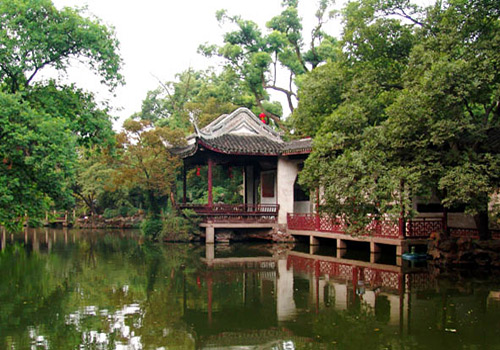 With an area about 2.5 acres, Jichang Garden is proud of its natural hills, elegant waters, concise structure, ancient trees and ingenious scenes. The great emperors Kangxi and Qianlong of Qing Dynasty had visited here for times and left inscriptions and poems; now the steles are still well-preserved and displayed in the garden. It is said that the Garden of Harmonious Interests in Summer Palace and the Double Crane Pavilion in Yumingyuan (the Old Summer Palace) are both the imitations of Jichang Garden.
What to see in Jichang Garden?
Feng Gu Xing Wo – The first visible architecture after entering the garden. Across three ancient halls of this house, a "garden in garden" is revealed with a pond surrounded by corridors and ancient pine trees.
Beauty Stone – A standing lake stone in the center of the water just like a beauty makeup in the mirror, and a pavilion beside was inscribed poem and painting for the stone by Emperor Qianlong.
Jin Hui Yi (A assembling of beautiful scenes) – It is the central scene in Jichang Garden, assembling all the beauties of the garden; the peaceful pond water just clearly reflects the hills, pavilions, trees, flowers and birds.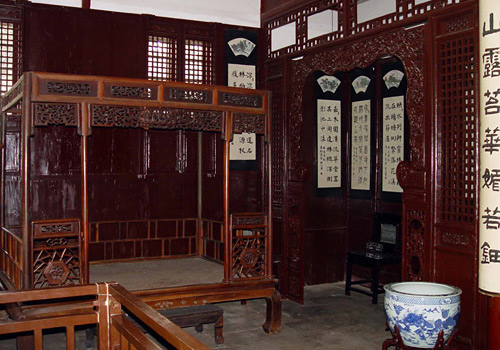 Yu Pan (Depressed Chessboard) – It is a pavilion within a stone table and four stone piers which was left from Ming Dynasty. As the story goes, Emperor Qianlong once played chess here with a monk from Hui Mountain Temple; though he won the game, he knew it was the highly skilled monk who lost intentionally. Therefore, the emperor renamed the pavilion as Yu pan, which means a depressed chessboard.
Brick-caving Pavilion – It is a reproduction of Ming architecture with little stone lions at the gate. Through the rockery in the front, the natural hill can be seen indistinctly, which make it hard to tell if it is the hill in the garden or it is the garden in the hill.
Bingli Hall – It is another "garden in garden" in Jichang Garden. With an area of not more than 700 square meters, all the parts of a garden are included in it. The neat and elegant halls and corridors, natural and exquisite pond and flowers, trees and peaks compose this beautiful picture of Chinese garden for your enjoyment.
Quick Questions
Our team is waiting for your questions. Please feel free to ask us any questions you might have about our China package tours, Chinese culture, or the sites available. We will gladly help you with any special needs you might have and all questions, like our trip designing is completely free of charge.