Urumqi Cuisine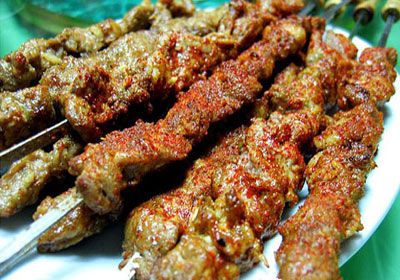 In Urumqi you can try different local dainties of minorities in Xinjiang Uygur Autonomous Region, such as nang, a kind of crusty pancake of Uygur, mahua, Chinese doughnut of Hui, cheese of Mongoloid, dairy products of the Eluosi nationality and so forth. As long as you are in Urumqi, you cannot resist food temptation. In addition, Sichuan cuisine, Cantonese cuisine and fast food are also available here so as to satisfy different taste buds. To be frank, fruit in Xinjiang Uygur Autonomous Region is renown around the country, with fresh fruit offered for seven months. Mulberry, strawberry, grape, cherry and many other inviting fruit can all be found in this city. And it is really a feast for fruit-fanatics!
Shish kebab (烤羊肉串)
Whenever people mention Urumqi, what flashes into their mind is shish kebab – an appetizing snack. Cut mutton and mutton fat into pieces and bunch them evenly before roasting. Then drop pepper powder, refined salt and cumin powder on it. Several minutes later you just can try!
Milky Tea (奶茶)
Boil the brick tea in a pot and then add milk to it. Remember to stir the liquid from time to time until they are blended. Finally, extract the tea and put some salt in it.
Nang (馕)
Nang is the main staple of residents in Xinjiang. It is s baking cake, similar to sesame seed cake, tasting crisp or soft. Most nang is made from wheat flour or corn wheat and added to sesame, onion, egg, oil, butter, milk, sugar and salt. Another kind of nang is added to mutton. Generally, nang is round with various tastes.