Xinjiang International Grand Bazaar

More Photos
Combining traveling, nation trade, restaurant, ethnic art display and retailing together, the Xinjiang International Grand Bazaar is a scenic spot in the Erdaoqiao business circle. It is the largest bazaar in the world with the most advanced equipments. Bazaar in Arabic and Uyghur means market. In the Islamic nations and districts, the scale of bazaar is a sign of the development of the local economy and market. Covering about 100,000 square meters, the Xinjiang International Grand Bazaar possesses 3000 ethnic handcrafts shops, 3,000-square-meters square, banquet which can hold 1000 people, an 80-meter-high sightseeing tower, magnificent mosque and more than 55 elevators and escalators. Both its equipments and cultural environment are of the first class.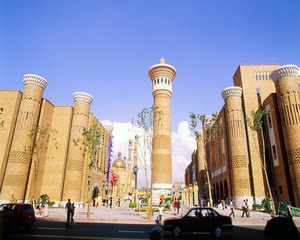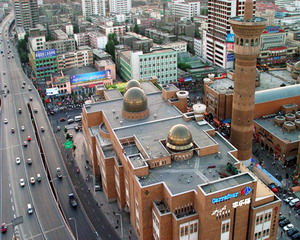 The Xinjiang International Grand Bazaar consists of six building groups. Khaki is adopted as the main color, and some elements of Greece, Ancient Rome, West Asia and Middle Asia are blended, making the bazaar one of the landmark buildings of Urumchi. It is the assembling and exhibiting center of tourist products of Xinjiang, the rich Islamic architectural style of which represents the prosperous Silk Road in ancient China and reflects the strong local culture combining the ancient West Region style.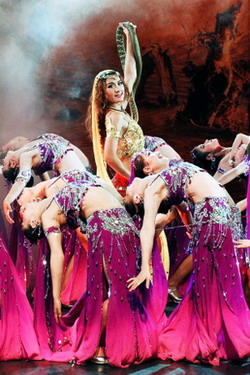 You can go shopping here as your will. In the daytime, crowds of people and children talk and play here; while when the night falls, colored light posts and music fountains enhance each other's beauty, and you can enjoy the astonishing performance-Dawazi on the steel slings and exciting Maixilaifu. The first sightseeing tower is made by Uyghur craft, and large scale embossed fresco is engraved in its outer. Inside the tower, there is a direct elevator to the pavilion on the top called "Epic of the West Region". The grand theatre combines banquet and art theatre, presenting the hospitality etiquette of the Uyghur nationality. The theatre can hold thousand people with romantic European hall, long tables and red rugs, swaying candle lights, silverwares and various delicious food. The recommended local snacks of the bazaar include Abula crusty pancake, baked stuffed bun, oil soaking noodle with meat, grabbing rice, mutton shashlik, cold noodle, sheep hoof, fried dough twist, etc.
Quick Questions
Our team is waiting for your questions. Please feel free to ask us any questions you might have about our China package tours, Chinese culture, or the sites available. We will gladly help you with any special needs you might have and all questions, like our trip designing is completely free of charge.