Red Hill

More Photos

Chinese name: 红山 (Hong Shan).
Location: at downtown Urumqi City, Xinjiang Uygur Autonomous Region.
Opening time: 07:30-23:30.
Ticket: CNY10.
How to get there: by bus No.1, 2 or 7, get off at Hong Shan Gong Yuan Zhan (红山公园, Red Hill Park Station).
Best time for visit: all year round.
Brief Introduction to Red Hill
As part of Red Hill Park, Red hill is a folded fault mountain at an altitude of 910 meters. The name of the hill originates from the purple and red glutenite massif formed in Permian Period. Due to its long history and culture background, Red Hill is commonly seen to be the trade mark of Urumqi City and is used as mark of Urumqi TV station.
History and Legend of Red Hill
According to folk legend, an evil red dragon escaped from the Lake of Heaven (天池) in the heaven and was cut into two parts by the Queen Mother of the West (王母娘娘). The Red Hill and the Yamalike Mountain in Urumqi are thought to be the two parts of the dragon and the Urumqi River is said to be turned from the sword by which the dragon was killed. However, scientific researches show that the two mountains were once connected in ancient times and were divided afterwards by the Urumqi River resulted from stratum fracture.
There were many temples on Red Hill long time ago such as the Red Temple built in Tang Dynasty (618-907) and the Pile of Stones (敖包) built by nomad used to worship gods that protect herdsmen. In 1779, governor of Urumqi built the Taoist Jade Emperor Temple (玉皇庙), the Great Buddhism Temple (大佛寺), the Great Deeper Temple (北斗宫) and the Temple of God of Land (地藏庙) on the Red Hill, and the fifth day of the fourth Chinese lunar month was set to be the Temple Festival of Red Hill, which attracted many people to come every year. However, the continuous rains in 1785 and 1786 attacked Urumqi and caused severe floods, which made people believed that there was a water dragon blocking the Urumqi River beneath the river. As result, a hexagonal solid-brick tower nine floors was constructed on the Red Hill to calm the dragon. It is a pity that these structures except Calm Dragon Tower and Great Buddhism Temple were damaged in wars in 1931.
Red Hill Park
Most visitors go to the Red Hill Park when they visit Urumqi City, because the park is a garden combing nature scenery, traditional architecture and a body-building ground, and is famous as one of Ten Attractions of Urumqi.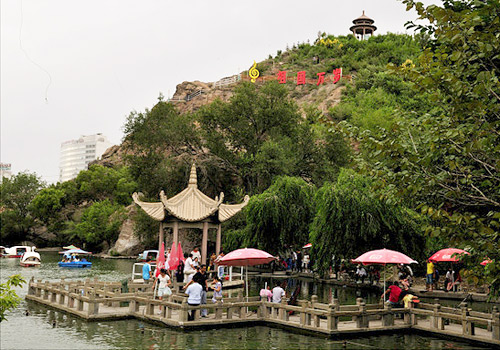 After entering the East Entrance and climb up a hillside, visitors will be welcomed by the statues of two deer. Keep moving and the Great Buddhism Temple survived in wars in 19th century will come into sight. When Red Hill Park was extended in 1989, the entrance door of Great Buddhism Temple was repaired and moved to the top of Red Hill to protect it. Besides repairing and moving the entrance door, the main hall, wing-rooms and sutra depository have also been repaired then. The main structures of the Great Buddhism Temple are the main hall, Hall of Heavenly King, Avalokitesvara Hall and Hall of God of Land used to hold temple ceremonies nowadays.
Crossing the Great Buddhism Temple, visitors will see two pavilions, with Diecui Pavilion (叠翠亭) on the left and Dragon Spring Pavilion (龙泉阁) on the right. A couplet was carved on two pillars of Diecui Pavilion, telling that this pavilion was built around grass and trees with morning sunlight shining through it to the Red Hill. Dragon Spring Pavilion is a nature stone construction with a spring floating down to form a pool surrounded by rugged rocks.
Go further and there is the Overlook Pavilion (远眺楼), which is built on the highest point of Red Hill, covering an area of 1,150 square meters. It is about 21.95 meters high with three floors modeling architectural style of Qing Dynasty (1644-1911) with red pillars and handrails and blue tiles. Up to the third floor of this pavilion, visitors can get a good view of Urumqi City.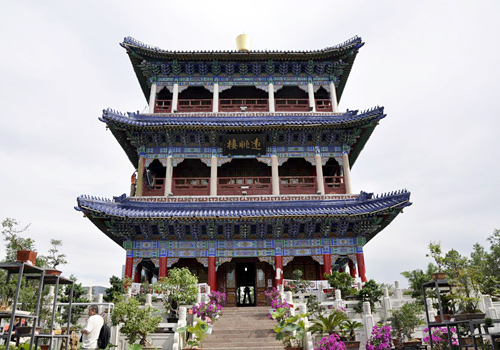 Behind the Overlook Pavilion is a cave named Red Hill Underground Hall (红山地宫), which is transformed from a civil air-defense construction built in 1950s which is about 460 meters long and covers an area of 1,300 square meters. This hall is also called Rare Cave (珍奇洞), for it is rebuilt with statues and paintings of Chinese traditional fairy tales and folk legends and combines modernized sound and light controlling technology to show stories vividly.
To the west of Overlook Pavilion is a statue of Lin Zexu (林则徐), an official of Qing Dynasty who worked at eliminating opium but was exiled to Xinjiang in 1842 by Emperor Daoguang (the sixth emperor of Qing Dynasty ruling during 1820-1849) after the First Opium War. In 1845, Lin went to Red hill and wrote a poem to show his depressed feeling of not being able to work for the imperial court. People of Urumqi set up Lin's statue and a Bronze Tripod of Prohibition of Opium (禁毒铜鼎) in memory of his great work and spirit after his death. Then the Red Hill becomes the first education base of prohibiting drugs in Xinjiang.
To the west and south of Lin's statue is Red Hill Cliff or Mouth of Red Hill. It is called Bala Hada in Mongolian, for the appearance of the cliff looks like the head of tiger (Bala means tiger in Mongolian and Hada means stone mountain), so that Mouth of Red Hill also called Tiger Head Peak (虎头峰).
Although most of ancient buildings on the Red Hill were damaged in wars during 1933, it has been rebuilt into a modern garden covering an area of 4 square kilometers with about 30 thousand trees today.
Quick Questions
Our team is waiting for your questions. Please feel free to ask us any questions you might have about our China package tours, Chinese culture, or the sites available. We will gladly help you with any special needs you might have and all questions, like our trip designing is completely free of charge.