Heavenly Lake

More Photos

Chinese name: 天池 (Tian Chi).
Location: Over 40 km east of Fukang City, 110 km from Urumqi City, Xinjiang Uygur Autonomous Region.
Tickets:
1. Admission fee: CNY100 from April to October, CNY40 from November to March.
2. Temple of Queen Mother of the West: CNY10.
3. Eco-museum of Heavenly Lake: CNY10.
4. Cableway: CNY20/one-way, CNY35/round-trip.
5. Other fees: accumulator car (CNY5/person each time), painted pleasure boat (CNY50/person each time), speed boat (CNY35/person each time), yacht (CNY205/person each time).
Opening time: 09:00-20:00.
Best time for visit: August and September.
How to get there: Travelers can take a bus from Beijiao Coach Station of Urumqi to Fukang Coach Station first (about 61 km, 80 minutes' drive, CNY12.5/person) and then transfer to Heavenly Lake Scenic Area (about one hour's drive). Arriving there, it is possible to reach the lake by tourist bus, cable care or on foot.
Travel tips:
1. There is obvious difference in temperature in day and in night in Xinjiang and temperature in some scenic spots is probably lower due to the high elevation or weather change. Therefore, it is still necessary to take along a coat or woolen sweater to keep warm in summer.
2. Located in the northwest, Xinjiang has a lower average temperature than that in most areas of China, but ultraviolet irradiation in it is commonly higher, the highest temperature in some cities such Turpan can reach above 40 degree Celsius, so it is suggested to take along effective sun block and some medicines in case of sunburn and sunstroke prevention.
3. Xinjiang is a region of ethnic minority with a common belief of Islamism. Pig and pork are the biggest taboos for Muslims, so please do NOT bring porky food into a Muslim restaurant or talk about pork in public areas.
4. Xinjiang is widely reputed as "home to fruits and melons", but please note that having hot drinks after fruits and melons may cause diarrhea. Besides, there are much more beef and mutton than vegetable in Xinjiang, for those who are not used to greasy food, it is suggested to take along digestants.
5. Although most areas of Xinjiang locates in UTC+6, Beijing Time (UTC+8, national standard time of China) is officially used in Xinjiang. Due to the time difference of two hours later, sightseeing in Xinjiang is usually arranged between Beijing Time 09:00 and 20:00.
Introduction to Heavenly Lake and Heavenly Mountain Scenic Area
Located in Fukang of Xinjiang Uygur Autonomous Region, the Heavenly Lake and the Heavenly Mountain it sits on form a natural highland scenic area surrounded by snow mountains and coniferous forest. Heavenly Mountain stretches for some 2500 km and separates Tarim Basin from Dzungarian Basin; Bogda, the highest peak, stands at 5445 meters above the sea-level.
In a shape of half-moon at an height of 1910 meters above the sea-level, the Heavenly Lake is just like a green pearl inlayed into the northern side of the Heavenly Mountain, 3400 meters in length, 800-1500 meters in width and 105 meters in deepest point. The water of the lake comes from melted snow of the surrounding mountains, hence it makes the place a well-known summer resort.
With Heavenly Lake as the center, the Heavenly Lake and Heavenly Mountain Scenic Area comprises four intact and vertical mountain land landscape belts, which covers a total area of 380.69 square km. In the mountains by Heavenly Lake there live many precious flora and fauna such as snow cocks, roe deer and saussurea involucrate. The tops of the mountains are even home to contemporary glaciers and rich in contemporary glaciers, e.g. copper, iron and mica.
In 1982 Heavenly Lake and Heavenly Mountain Scenic Area became one of the first national-level scenic spots and in 1990 it was added on the list of Bogda Nature Preserve of Man and the Biosphere by the UNESCO.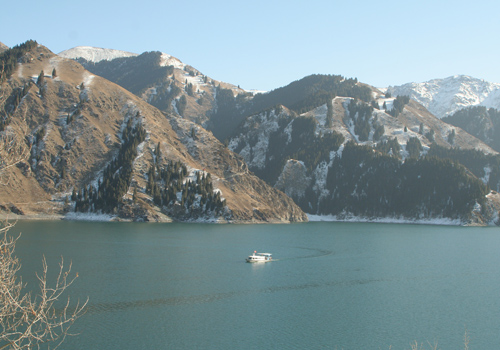 More about Heavenly Lake
In 1783 during Qing Dynasty, the current name of the lake was used in an article by Mingliang, a military and political official in Urumqi. In 1970s, Guo Moruo (1892-1978, a renowned Chinese scholar, writer and social activist) spoke highly of the natural beauty of Heavenly Lake when visiting it with Norodom Sihanouk, King of Cambodia from 1941 to 1955 and The King-Father of Cambodia since 2004 after his abdication.
Heavenly Lake was originally named after "Yao Chi (瑶池)" – the abode of Queen Mother of the West – because of a legendary feast of the emperor and the goddess over 3000 years ago by the lake. Apart from the main water part, Heavenly Lake has also two lesser wing-lakes on both sides. The one at the east side is nicknamed " Lesser Eastern Heavenly Lake" or "Black Dragon Pool", which is said to be the bath pool of Queen Mother of the West; the western on is called "Lesser Western Heavenly Lake" or "Maiden Pool", the place where the goddess wash her feet. It is amazing that there is a waterfall near the two small lakes respectively.
Today, the Great Eight Temples constructed by the Heavenly Lake do not exist there any more and only the Temple of Goddess has been rebuilt for pilgrims' worship.
Quick Questions
Our team is waiting for your questions. Please feel free to ask us any questions you might have about our China package tours, Chinese culture, or the sites available. We will gladly help you with any special needs you might have and all questions, like our trip designing is completely free of charge.