Erdaoqiao Market

More Photos

Chinese name: 二道桥市场 (Er Dao Qiao Shi Chang)
Location: No.37 South Jiefang Road, Urumqi City, Xinjiang Uygur Autonomous Region.
Opening time: all day long.
Ticket: free.
How to get to Erdaoqiao Market: take buses No.1 or 101.

Introduction to Erdaoqiao Market of Urumqi
Erdaoqiao, an ancient district in Urumqi, is the most famous compact communities of the Uygurs. It is undoubtedly the epitome of the central Asian and Uygur amorous feelings, a grand get-together of diversified nationalities, and a lively colorful, vocal and aural museum. To some extent, Erdaoqiao is the mark and symbol of the city of Urumqi, which always included in the attraction list for all travelers in Urumqi.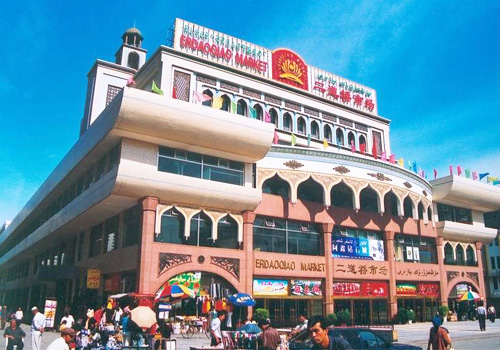 Erdaoqiao Market, covers 8818 square meters, measures 135 meters long and 40 meters wide with a built-up area of 35000 square meters, is a construction in full-bodied uygur features seated in the south of the Kashgar hetian jade market, in the north of the Aile Manyuan Hotel, and in the west of the Xinjiang International Grand Bazaar. The market of Erdaoqiao started since the late of Qing Dynasty (1644-1911), which was a center to barter one thing for another. Over the 100 years, here are stalls and shops in great number and many a Uygur trader selling food and handiworks. Today, though a 7-storey building has been completed to hold all shops, the market maintains its bustling trades throughout the year.
The lower three floors of Erdaoqiao Market are commercial sections selling commodities of over 2000 kinds falling in 13 categories, including folk costume, ethnic caps, knives, jewelry, artwares, instruments, carpets, and tapestries, Pakistan bronze brass, Turkey knit goods, and a great variety of ethnic medicines, such as Saussurea involucrate, corn cervi pantotrichum, licid ganoderma, red flowers, Chinese caterpillar fungus, Ferula assafoetida, Chinese angelica, ginseng, and so on. 80% of these shops are operated by ethnic people. The fourth floor of the market building is a largest comprehensive folk song and dance banquet hall in Urumqi; here visitors can find inviting mutton eaten by hands, fragrant baked steamed buns, delicious roast whole lamb, and kinds of unknown Xinjiang snacks. And the fifth and sixth floors are offices. No matter when you enter Erdaoqiao Market, the charming exotic atmosphere just assaulted you at once.
Quick Questions
Our team is waiting for your questions. Please feel free to ask us any questions you might have about our China package tours, Chinese culture, or the sites available. We will gladly help you with any special needs you might have and all questions, like our trip designing is completely free of charge.