Emin Minaret (Su Gong Ta)

More Photos

Chinese name: 苏公塔 (Su Gong Ta)
Location: 2 kilometers east of Turpan, Xinjiang Uygur Autonomous Regions.
Opening time: 08:00-21:00 (peak season); 10:00-18:30 (low season)
Ticket:
Peak season (March, 1st---November, 30th)
- CNY196 for a 4M combined ticket, which includes Grapes Gully (葡萄沟), Kaner Well (坎儿井), Ancient City of Gaochang (高昌故城), Emin Minaret King's Mansion (苏公塔郡王府) and Flame Mountain (火焰山);
- CNY179 for a 6H combined ticket, which includes Ancient City of Jiaohe (交河故城), Ancient City of Gaochang, Emin Minaret King's Mansion, Astana-Karakhoja Ancient Tombs (柏孜克里克古墓) and Bizaklik Thousand Buddha Caves (千佛洞).
Low season (October, 21st---April, 20th)
- CNY129 for a 4M combined ticket;
- CNY126 for a 6H combined ticket.
How to get there: depart from Turpan Railway Station (吐鲁番火车站), walk to Gardening Spot (园艺场) and take the bus at 102 Group (102团), which has direct buses to Emin Minaret.
Best time to visit: all year round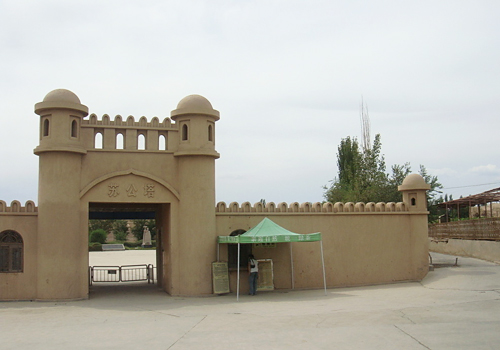 Introduction to Emin Minaret (Su Gong Ta)
Designed with the unique style, Emin Minaret (also known as Su Gong Ta) is the largest Islamic tower in Xinjiang Uygur Autonomous Region. More than 230 years have gone by since it was established in 1777 during the rein of Emperor Qianlong (1735–1796) of Qing Dynasty (1644-1911). Duke Emin, as the leader of the Uyghur nationality and the local Turpan general in Turfan, who had traveled to Mecca and helped to defeat a rebellion against the Qing Government, was bestowed on the title of infanta for the great achievement on safeguard the national unity of Qing Dynasty. In order to repay the favors to Qing Government and show the loyalty to the Allah, Emin Khoja founded the minaret in 1777 and completed it one year later.
Architecture features of Emin Minaret
Listed as one of national priority cultural relic protection sites, Emin Minaret of Turpan is well known for its novel and unique architectural design. Grey bricks become its sole hue. 10 meters diameter is served as the minaret base and 2.8 meters at the top. The wide base and narrow top form the conical art work. Visitors can take 72 staircases in the interior of the minaret and reach the top for enjoying the panoramic view of whole city. More than 15 beautiful geometrical patterns and textures including triangle, four petals, water waves and various other things were drawn on the Emin Minaret to add to it elegance. 14 windows are displayed at different directions and heights, providing light and fresh air.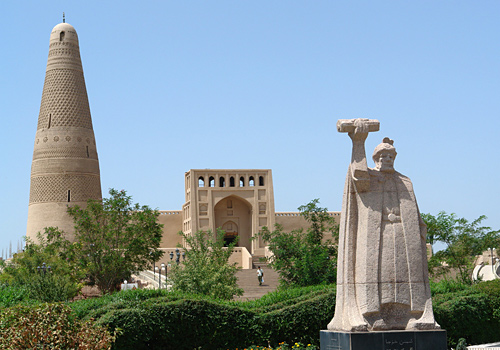 Designed to be a wonderful example of the Islamic style of building, it is however influenced by Chinese features. The great dome-shaped tower is with a height of 44 meters. In front of the Emin Minaret, a stele with both Chinese and Uighur language is engraved to express the gratitude of Qing Government and leave a good name of Emin Khoja for posterity. A Uyghur Mosque nearby has a capacity of more than 1,000 prayers. The simple and practical building styles evoke a feeling of timeless beauty. Worshipers and visitors come in an endless stream every year. It is said the mosque is one of the largest ones in Xinjiang Uygur Autonomous Regions. Stretching over an area of 2,500 square meters, it has sufficient space for over 1,000 visitors.
The whole site is composed of Emin Minaret and Mosque. Emin Minaret is designed by a local well-known architecture master in Qing Dynasty.The Minaret acquires an enviable reputation for artistic ability and is enveloped in a shroud of mystery for the sole color of grey bricks. The intricate and delicate ornamentation on the brick display a strong religious smack of everyday life. A modern exhibition hall of Emin Minaret was established nearby in 1999. Visitors can enjoy the full view by ascending the sightseeing tower in the hall. It is officially open to public in 2000 and more than hundreds of dainty relics from Hotan district of Xinjiang are exhibited here.
Food recommendation
Same as Urumqi, all varieties of food are available in Turpan such as noodles from north of china, Cantonese cuisine, Sichuan cuisine, Uighur snacks and Muslim food. Sweet grapes, fragrant hami melons and watermelons, ficus carica, apricots and bergamot pear, the distinctive local fruits attract many tourists annually. At a constant temperature of 20 degrees Celsius, Turpan provides an ideal and appropriate situation for many sorts of fruits and enjoys the great reputation as "paradise of fruits".
Quick Questions
Our team is waiting for your questions. Please feel free to ask us any questions you might have about our China package tours, Chinese culture, or the sites available. We will gladly help you with any special needs you might have and all questions, like our trip designing is completely free of charge.