Ancient City of Gaochang

More Photos

Chinese name: 高昌故城 (Gaochang Gucheng)
Location: in Sanbao Town, about 40 kilometers east of Turpan, Xinjiang Uygur Autonomous Region.
Tickets:
Peak season (Mar.1st - Nov. 30th)
- CNY196 for a 4M combined ticket, which includes attractions of Grapes Gully (葡萄沟), Kaner Well (坎儿井), Ancient City of Gaochang (高昌故城), Emin Minaret King's Mansion (苏公塔郡王府) and Flame Mountain (火焰山);
- CNY179 for a 6H combined ticket, which includes attractions of Ancient City of Jiaohe (交河故城), Ancient City of Gaochang, Emin Minaret King's Mansion (苏公塔郡王府), Astana-Karakhoja Ancient Tombs (柏孜克里克古墓) and Bizaklik Thousand Buddha Caves (千佛洞);
- CNY205 for a 8T combined ticket, which includes attractions of Grapes Gully, Kaner Well, Ancient City of Gaochang and Ten-thousand-Buddha Palace (万佛宫);
- CNY190 for a 9P combined ticket, which includes attractions of Grapes Gully, kaner Well, Ancient City of Gaochang, Astana-Karakhoja Ancient Tombs and Tuyugou (吐峪沟).
Low season (Oct. 21st-Apr. 20th)
- CNY129 for a 4M combined ticket;
- CNY126 for a 6H combined ticket;
- CNY127 for a 8T combined ticket;
- CNY119 for a 9P combined ticket.
Opening time: 08:00-21:00 (peak season); 10:00-18:30 (low season)
How to get there: many touring buses to Ancient City of Gaochang are available in Turpan.
Best time to visit: all year round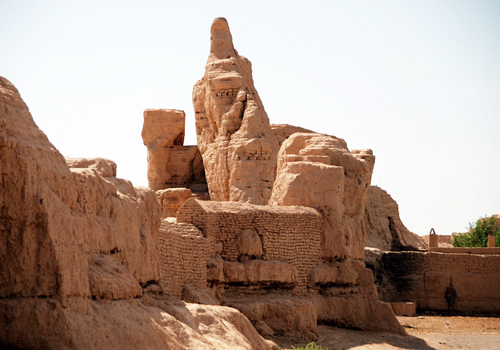 Introduction to Ancient City of Gaochang
The name "Ancient City of Gaochang" means "King's City" in the Uighur language. As matter of fact, it was indeed served as the capital of Gaochang Kingdom (460-640) in the ancient time. Situated at about 40 kilometers east of Turpan of Xinjiang Uygur Autonomous Region, Ancient City of Gaochang dates from the first century BC and is impressive for its magnificence and charming. It spans an area of more than 2,000,000 square meters and was listed as one of the country's key protected cultural sites of China in 1961 and also known as the largest site of ancient city in Chinese western region so far.
Gaochang (also known as Qara-hoja in Uighur language), which is about 27 kilometers southeast of modern Turpan, was originally a stopping point for merchant traders traveling on the Silk Road and then gradually became the political, economic, cultural and transport center of Chinese western region. In this narrow Turpan Basin, a series of 4 independent kingdoms followed from the middle of 5th century to 7th century. It is a world religious hotspot as well.
Oblong in shape, Ancient City of Gaochang has a circumference of 5.4 kilometers and is made up of three sections: outer city, inner city and palace. The outer wall was built by stamping earth with a height of 11.5 meters and a width of 12 meters. The gate in the north is the best preserved among 9 gates. Most of the old buildings disappeared or damaged badly because of wars at the end of 13 century except two temples in the southwest and southeast respectively. Since its pattern of city layout is similar to the Chang'an City (present Xi'an) of Tang Dynasty (618-907), the archaeologists claim that the Ancient City of Gaochang is western region version of Chang'an during the thriving period of Tang Dynasty. Entering the city, visitors can see walls, Khan Barrier and fire towers and so on.
Brief History
Built in the 1st century B.C., the Ancient City of Gaochang goes through millennium vicissitudes.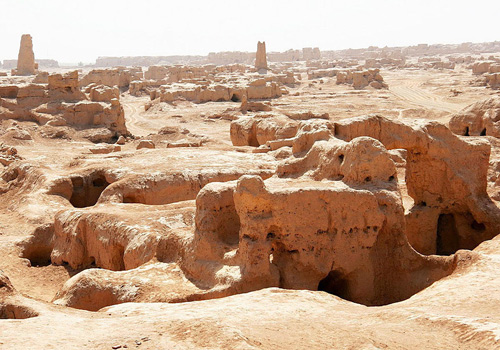 After the fall of Former Qin Dynasty (前秦, 351-394), Houliang Dynasty (后凉,386-403), Xiliang Dynasty (西凉, 400-421), etc., it was getting more and more prominent. Therefore, the original political, economic and cultural center of Turpan Basin has been shifted from Ancient City of Jiaohe to Ancient City of Gaochang in 450. Since then, families Zhang, Ma, and Qu ruled the kingdom one after another. Among them, Qu family swayed the kingdom for a long time, which lasted more than 140 years (499-640). The kingdoms in Gaochang all had very close relations with the ruling dynasties in the central plains and have received honorific titles by emperors. In 640, Gaochang area has been unified by Tang Dynasty (618-907) and then was under control by Tibetan people at the end of the 8th century. In the middle of 9th century, the Uighur moved westward to Gaochang and established the kingdom here. In 1209, they were subordinate themselves to Mongolia in 1209 during the Genghis Khan period.
The Historical Value
As a hub and prominent connection to central Asia and Europe, the Ancient City of Gaochang was getting more and more prominent since Han Dynasty (B.C.202-A.D.220) and Tang Dynasty (618-907). The hyperactive foreign trade in this area boosted the fast development in all aspects, especially attracted various religions around the world. It was gradually evolved into the most developed and vigorous religious region. Monk Xuanzang (玄奘,602-664, a famous Chinese Buddhist monk and scholar in Tang Dynasty) made his seventeen years journey to India in search of sacred books of Buddhism. During his trip, he stopped at Gaochang for explaining and teaching sutras. It is said that the King of Gaochang enchanted by his knowledge of the sacred Buddha books and they become sworn brothers at last. Established in the first century BC and deserted in the 13th century, Ancient City of Gaochang has a long history of over 2,000 years and has been in use for more than 1,300 years, which is the best witness for millenarian culture and history in western region.
Quick Questions
Our team is waiting for you questions. Please feel free to ask us any questions you might have about our China package tours, Chinese culture, or the sites available. We will gladly help you with any special needs you might have and all questions, like our trip designing is completely free of charge.