Tibet Transportation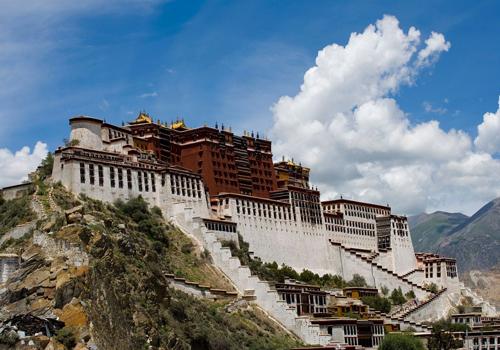 Lhasa, the provincial capital city of Tibet, is the transportation hub in Tibet and most travelers choose to enter Tibet via Lhasa. To enter Tibet, there are three means of transportation- by air, by train and by bus. Before, most people chose airport to get into Tibet due to the less use of time and safety; however, since the Qinghai-Tibet Railway has been put into service in 2006, more and more people prefer to enter Tibet by train, by which not only amazing plateau scenes can be enjoyed on the way, but also get a better adaptation for the gradually rising altitude.
By Air
At present, main airports used by travelers in Tibet are Lhasa Gongga Airport, Shigatse Peace Airport, Ngari Gunsa Airport, Nyingchi Airport and Chamdo Bangda Airport.
Tibet has flights to and from both domestic and abroad. Most visitors in China usually choose to fly to Tibet from Chengdu, because Chengdu offers several fixed flights to Lhasa each day; now, Beijing also has fixed flights to Lhasa, while Guangzhou, Xining, Chongqing and Xi'an provides some scheduled flights to Lhasa. As for travelers in Nepal, there are also direct flights to Lhasa from Kathmandu.
By Train
The train can only reach Lhasa in Tibet. Lhasa Train Station is in the southwest of the city, some 20 kilometers from the Potala Palace and standing 3600 meters high above sea level. Trains depart from Lhasa can reach domestic cities of Xi'ning, Lanzhou, Beijing, Chengdu, and Chongqing. The train from Beijing to Lhasa is No.T27, departing at 20:09 p.m. and will get to Lhasa the third day afternoon at 16:00 after a 4064 kilometers ride.
By Bus
To enter Tibet, there are four domestic highroads, namely Qinghai-Tibet Highway, Xinjiang-Tibet Highway, Sichuan-Tibet Highway and Yunnan-Tibet Highway. Only in Golmud of Qinghai Province, the coach can take passengers directly to Lhasa. If people choose Yunan or Sichuan as the staring point to enter Tibet, they have to change buses on the way. In addition, there is also a Friendship Highway between China and Nepal, connecting Lhasa with Nepal at Camphor Border.
As for highroads within Tibet, now about 15 arterial highways and 315 feeder highways are available, there are highroads of Lhasa- Yatung, Black River- Ngari, Shigatse- Pulan, Black River- Chamdo, Nyingchi- Tsedang, Lhasa- Tsedang, Tsedang- Cuona, Lhasa- Shigatse, Lhasa- Zhangmu, etc.