Jokhang Temple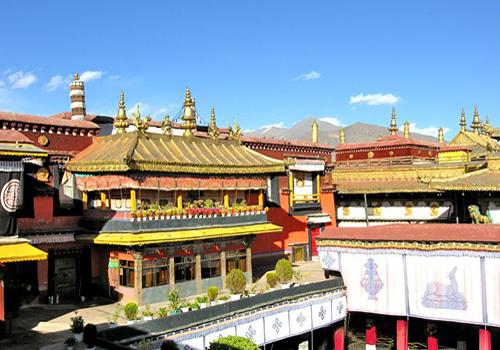 More Photos

Chinese name: 大昭寺 (Dazhao Si)
Location: on Barkhor Street, Lhasa City, Tibet Autonomous Region.
Entrance fee: 85 Yuan. Please note that tourists should buy a photograph permit (90 Yuan) before they take a picture inside the hall of the temple.
Opening time:
- 08:00-11:30 (canonical hours for Buddhists, tour groups exceeding 10 persons are not allowed to enter).
- 11:30-17:30 (opened to all tourists).
In addition, tour groups should finish the visit within one hour (20 minutes in Courtyard of Thousand Buddha Corridor, 10 minutes in the central hall and 20 minutes for photographing the Gold Top on the terrace).
Best time for visit: May-October
How to get there: The way for foreign travelers to enter Tibet is booking a Tibet tour or a China tour containing Tibet with a Chinese travel agent in advance.
Introduction to Jokhang Temple
The Jokhang Temple located at center of the old city quarter of Lhasa possesses a supreme status among Tibetan Buddhist temples. According to historical record, Jokhang Temple and Ramoche Temple (小昭寺) was proposed to be built in the middle of the 7th century by Princess Bhrikuti of Licchavi Kingdom of Nepal and Princess Wencheng of Tang Dynasty, wives of Songtsan Gampo, for enshrining and worshiping two life-size sculptures of Buddha Sakyamuni which were parts of their dowries.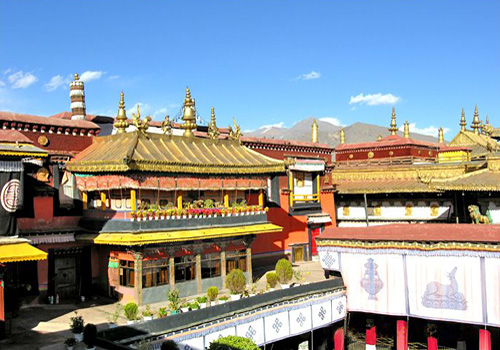 Being one of the existing oldest pise-and-wood buildings in Tibet, Jokhang Temple coalesced architectural styles of Tibet, Tang, Nepal and India, and created a new model in arrangement in Tibet. Another feature of the temple is that it is a sacred temple that has been worshiped all the time by different religious sects rather than belongs to some denomination. And, it is also the site where the grand ceremony of deciding the next Panchen Lama (the lama next in rank to the Dalai Lama) is held.
As the most resplendent temple in Tibet, the Jokhang Temple has a floor area of 16,700 square meters, with twenty halls. The overall arrangement of Jokhang Temple apparently distinguishes from that in other regions of China and represents the ideal universal mode in Buddhism.
In 1751, a governmental agency, which took charge of administrating Tibet under the lead of Dalai Lama and the central government of Qing Dynast, was set up in Jokhang Temple.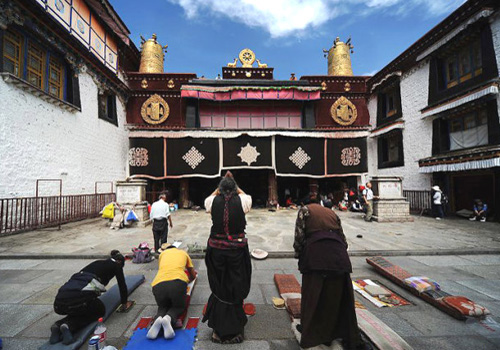 A long period of over 1000 has passed, but the prostrate kowtowing in front of Jokhang Temple is still a religionary tradition of the pious worshipers, who turn scripture around the temple every day. "He who has never been to Jokhang Temple has not been to Lhasa" is a famous saying of Nyima Cering, a renowned lama of the temple, as well as a viewpoint agreed by travelers.
The large amount of priceless cultural relics of Jokhang include more than 300 figures of Buddhas, more than 2600 square meters painted mural, ancient books, inscriptions, Thangkas, musical instruments, etc. In November of 2000, Jokhang Temple was listed to be World Cultural Heritage by virtue of its long history and cultural treasure.
Today, the alliance stele carved in 823 in both Tibetan and Han still stands in front of the temple. Beside the stele there is a well-known "princess willow" which is said to be planted by Princess Wencheng.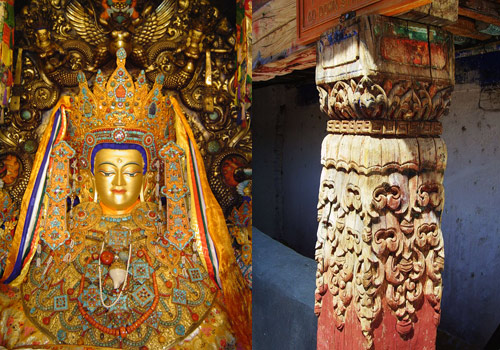 More Information about Jokhang Temple
The main body of Jokhang Temple is a magnificent four-storey structure with golden glaze-tiled roof. Now there still exist several Buddha halls, which are without exception painted and decorated and full of the smell of burning fuel made from local butter.
The first floor is the main hall where lamas pray and recite sutras every day, in which there are 20 huge stakes, with amazing embossments and painting telling the stories of Princess Wencheng, Master Xuanzang, Sakyamuni, and so on. At both sides of the main hall, there are side halls in which the statues of Songtsan Gampo and his two wifves. On the second and third floors, there are 103 wooden sculptures of wild animals and creatures like Sphix, from which Nepalese and Indian styles can be seen. On the terrace on the top floor, several typical Gold Tops of Tibetan Buddhism are set up on there.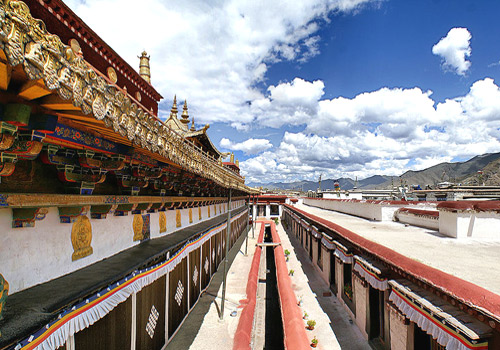 Legends of Origin of Jokhang Temple
One legend says it that the site of Jokhang Temple sits on was originally a lake, by which Songtsan Gampo promised Princess Bhrikuti that a temple would be built for her on the place his ring landed. Beyond his expectation, the ring fell into the lake and a white pagoda emerged in the middle of the lake. Hence, a huge project of filling the lake and constructing the temple commenced with the help of one thousand white goats, which took the hard job of transporting soil.
Another story insists the idea that the origin of Jokhang Temple had something to do with the real-life statues of Sakyamuni, which were a part of the dowries of Princess Bhrikuti and Princes Wencheng respectively when they married Songtsan Gampo.
However, a more popular story believes that Tibet used to be attacked by flood in that time and Princess Wencheng worked it out that the disaster was caused by a witch who lay on the Qinghai-Tibet Plateau. To conquer the witch, Princess Wencheng suggested to build a temple on the lake where the witch's heart located right there. In addition, she also recommended to build another 12 smaller temples at some remote areas of Tibet to pin her arms and legs. In this way, the Jokhang Temple came. Today, an old Thangka of the image of the witch suspected by the princess is still kept in Tibet Museum.
Quick Questions
Our team is waiting for your questions. Please feel free to ask us any questions you might have about our China package tours, Chinese culture, or the sites available. We will gladly help you with any special needs you might have and all questions, like our trip designing is completely free of charge.