Yangliuqing New Year's Painting Studio

More Photos

Location: in Yangliuqing Ancient Town, Xiqing District, in the west of Tianjian City.
Opening Time: 09:00-16:30
How to get there: on private coach or by buses No. 153, 175, 669 or 672, and get off at the stop of Yangliuqing (Chinese:杨柳青).
History of Yangliuqing New Year's Paintings
New Year's painting (Chinese:年画) emerged in Song Dynasty (960-1279) and took shaped and prevailed in Ming Dynasty (1368-1644). It is a delighted art form among Chinese people especially in countryside in the history and usually are pasted on doors, windows and walls as decorations during the Spring Festival to wish a propitious year. New Year's painting is developed from the ancient painting of god of doors, which was put on doors to drive away evils. For a very long period of time, New Year's Paintings are the most popular folk art among civilians.
As a millennium ancient town in Tianjin with pleasant scenery and convenient transportation, Yangliuqing Town (Chinese:杨柳青镇) is an old timer in making of New Year Paintings with a long history of over 600 years as early as in late of Yuan Dynasty (1206-1368), and has reached its prime in Qing Dynasty (1636-1911) that the works at that time were sold to various regions over the country. Even today, there are about two fifths of the residents in the town still operate this painting business. Hailed as a treasure of traditional Chinese folk art as well as the first of the Four Chinese Wood Engraving New Year's Paintings, Yangliuqing New Year's Painting boasts for its distinctive art features, wide range of subjects, rich and complicated content and auspicious implied meaning.
Features of Yangliuqing New Year's Paintings
As the only way must be passed to visit other scenes in Yangliuqing Town, Ming-Qing Street (明清街, with construction styles of Ming and Qing dynasties) is a popular tourist street with dazzling folk handiworks including numerous New Year's Paintings sold in painting studios. To visit these studios, it is interesting to view the overall making process of a New Year Painting as well as learn its development history.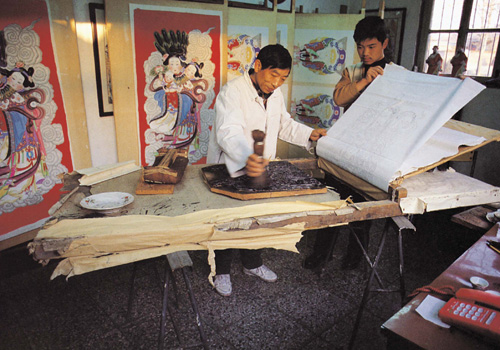 Yangliuqing New Year's paintings are wood engravings which combine the woodblock printing with manual painting, and the processes include drafting, board framing, hand-engraving, printing, coloring or painting, and then mounting. The most characteristic of Yangliuqing New Year's Painting lies in its post production especially the process of coloring which spends the most time with various techniques. In this case, even use the same engraved board, paintings can be created in widely different art styles by distinctive ways of coloring.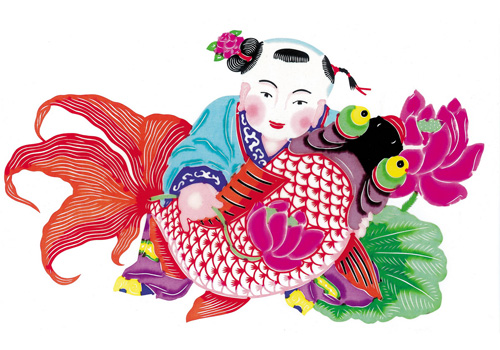 The subjects of Yangliuqing New Year's paintings are in a wide range include historical stories, myths and legends, traditional operas, folk customs and amorous feelings, birds and flowers, and mostly all kinds of themes that close correlated to people's life. It is the rich content that makes the painting significant in art values and also precious in research of the history. As the painting for the Spring Festival, the most representative and typical work of New Year's painting is Brimful Happiness in Successive Years (Chinese:连年有余), which portray a happy child embracing a big fish and holding a lotus flower to wish a flourishing year.
Quick Questions
Our team is waiting for you questions. Please feel free to ask us any questions you might have about our China package tours, Chinese culture, or the sites available. We will gladly help you with any special needs you might have and all questions, like our trip designing is completely free of charge.