The Tientsin Eye

More Photos
Chinese name: 天津之眼
Location: Hebei District, Tianjin, China
Opening time: 09:30-21:30 (closed every Monday morning)
Recommended time for a visit: 1 hour
Best time to visit the Tientsin Eye: all year round

Introduction to The Tientsin Eye
The Tientsin Eye, the full name of which is The Yongle Bridge Tientsin Eye, connects the Hebei and Hongqiao districts across the Haihe River. It is a Ferris wheel built across river and integrated with bridge, with both sightseeing and transportation functions. As one of the landmarks in Tianjin, the Tientsin Eye is the only Ferris wheel in the world that built on a bridge.
With a diameter of 110 meters, the Ferris wheel is equipped with forty eight 360-degree transparent cabins. Each cabin can seat 8 people and the wheel can totally accommodate 384 people for sightseeing at the same time. The time it takes for the Ferris wheel to make a full turn will be affected by the number of passengers and weather changes, and generally it takes about half an hour to complete a cycle. When it reaches the highest point, the surrounding scenery is unobstructed, the scenery within 40 kilometers can be even seen if weather permits, thus the wheel was named "The Tientsin Eye".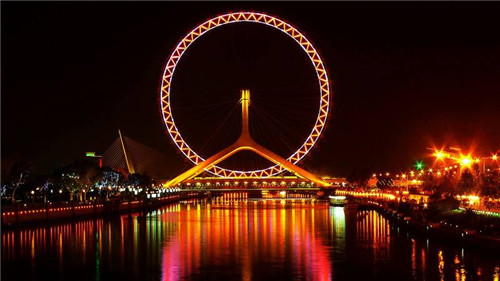 The Yongle Bridge is one of the first batch of newly-built bridges in the comprehensive development of the Haihe River. It is also the most technically difficult bridge on the River. The 2008 Beijing Olympic torch relay in Tianjin passed Yongle Bridge and The Tientsin Eye, and shortly before the opening of the Olympic Games, Yongle Bridge was officially opened to traffic. Then the Yongle Bridge Tientsin Eye was officially opened to welcome tourists on April 28, 2009.
Quick Questions
Our team is waiting for your questions. Please feel free to ask us any questions you might have about our China package tours, Chinese culture, or the sites available. We will gladly help you with any special needs you might have and all questions, like our trip designing is completely free of charge.