Porcelain House

More Photos

In the old French Concession in Tianjin City, there once stood a European style building, which has been renovated today to be a unique private porcelain museum all covered with porcelain pieces, named Porcelain House (Chinese:瓷屋).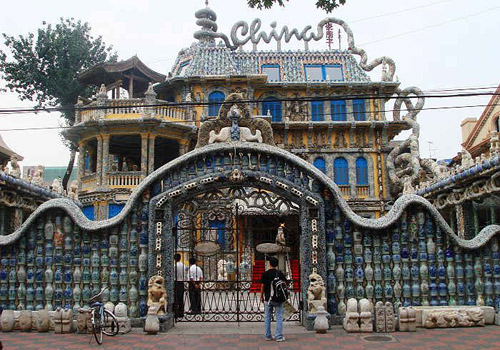 Just near the old mansion of the general Zhang Xueliang, the Porcelain House was completed by a antiquarian Zhang Lianzhi, who had spend over 20 years to collect materials and 5 years for the decoration. The inspiration comes from a wall covered with ancient ceramic chips in his first private museum also in Tianjin City, the Huayun Museum with masses of bronze, wood carvings, and stone implements from Western Zhou Dynasty to Qing Dynasty.
What to see in Porcelain House?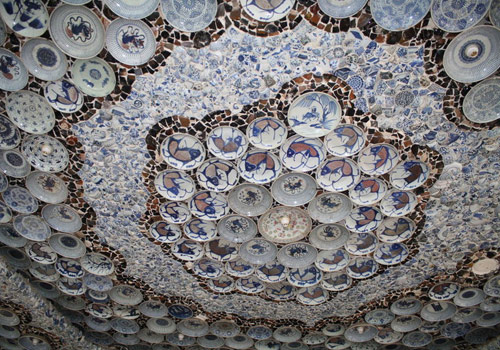 Covering an area of nearly 4000 square meters, the Porcelain House is decorated with over 400 million pieces of ancient Chinese ceramic chips, more than 5000 ancient porcelain vases, 4000 porcelain plates and bowls, as well as over 400 white marble carvings, 20 tons of natural crystals and agates, and over 300 stone lions in diverse sizes of different times. All the ceramic chips collected of dynasties of Song, Yuan, Ming and Qing are pasted on every space of the grand building make it gleaming under the sunshine. Completed for 5 years by Zhang Lianzhi, this original Porcelain House is of great antique flavors and no doubt the most characteristic and eye-catching building in the city attracting visitors home and abroad.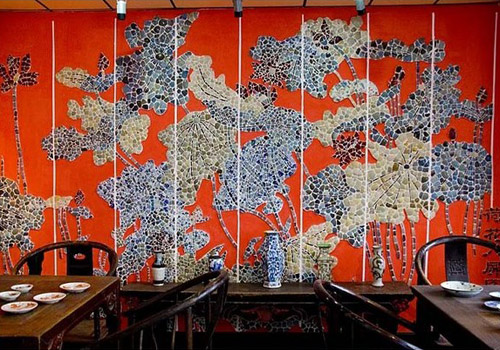 A basso-relievo of a 768-meter-long dragon is flying on the top of the Porcelain House consisting of hundreds of thousands of ceramic chips is surrounded by porcelain auspicious clouds with a obvious mark "china". What is more interesting and ingenious is that, on the walls of each floor, exhibits are numerous celebrated calligraphies and paintings of all ages both domestic and foreign, collaged also by ancient ceramic chips. Those paintings include one of the most classical and famous picture of Tang Dynasty, named Five-Bull Chart, and the world-renowned Mona Lisa by Da Vinci. The most magnificent and extraordinary of the Porcelain House is the fencing, which is comprised of 635 vases made in late Qing Dynasty and the period of the Republic of China. It is called Peaceful Wall for a propitious meaning, as the Chinese character "平 (peace)" shares a same pronunciation "ping" with "瓶 (vase)" .
Quick Questions
Our team is waiting for your questions. Please feel free to ask us any questions you might have about our China package tours, Chinese culture, or the sites available. We will gladly help you with any special needs you might have and all questions, like our trip designing is completely free of charge.